SpaceX Fires Falcon Heavy Engines in Step Toward Maiden Launch
By
Routine performance check sign of business as usual post-Zuma

New rocket enables Musk's company to compete for more launches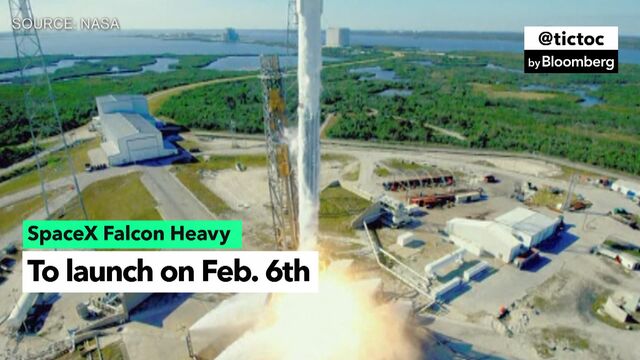 Elon Musk's Space Exploration Technologies Corp. has completed a key milestone as it gears up for the maiden flight of its larger and more powerful Falcon Heavy rocket.
SpaceX on Wednesday successfully performed a "static fire" test, a routine performance check where the rocket's first-stage engines are ignited and fired at full thrust while the rocket itself stays on the ground. The rocket, which has 27 Merlin engines, is vertical at launch complex 39A at NASA's Kennedy Space Center in Florida as it awaits its first test flight.
"Falcon Heavy hold-down firing this morning was good," Chief Executive Officer Musk said on Twitter. "Generated quite a thunderhead of steam. Launching in a week or so."
The engine test is a sign that SpaceX is moving forward with business as usual amid intense Congressional and industry interest in the fate of the classified Zuma payload, which apparently crashed into the sea after its Jan. 7 launch. SpaceX has denied that its Falcon 9 was in any way to blame for the mishap, with COO Gwynne Shotwell saying the rocket "did everything correctly." The scrutiny over what went wrong hasn't derailed SpaceX from moving forward with its next project.
The Falcon Heavy's first stage is composed of three Falcon 9 cores, each of which has nine engines. The bigger rocket will allow the Hawthorne, California-based company to compete for heavier commercial and military payloads. The U.S. Air Force command that certified SpaceX for military missions said this week it remains confident in the company's capabilities despite Zuma's outcome.
Musk has said that the payload for the maiden flight of Falcon Heavy will be his personal red Roadster sports car made by another one of his companies, Tesla Inc. SpaceX said earlier this week that the now resolved government shutdown had impacted its ability to perform the static fire test.
For more on Elon Musk, check out the Decrypted podcast:
Before it's here, it's on the Bloomberg Terminal.
LEARN MORE