Riksbank Is Ready to Start Hiking Before the ECB, Skingsley Says
By
Sweden's krona jumps on Riksbanker's comments about tightening

Deputy governor says Riksbank has delivered on inflation goal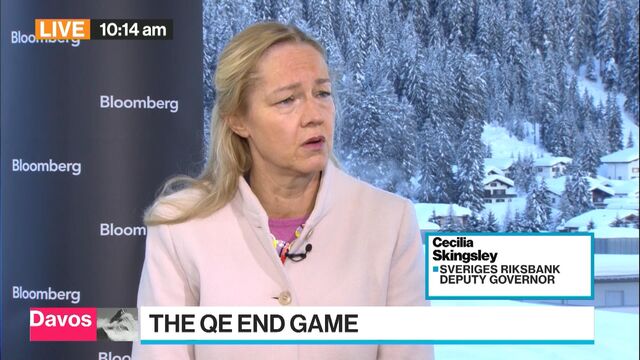 There's room for the Riksbank to start raising interest rates before the European Central Bank exits its stimulus program now that Swedish policy makers have delivered on their inflation target, deputy governor Cecilia Skingsley said in an interview with Bloomberg Television.
"We have achieved what we set out to do, which was to bring inflation back to target," Skingsley told Bloomberg TV's Francine Lacqua in Davos. "We have a strong economy and we were faster out of the recession from the euro crisis, so it makes sense in my view that we can start a bit earlier with normalization than the ECB."
The Swedish central bank last month ended its almost three-year quantitative easing program after years of extreme stimulus revived inflation. The bank penciled in a rate increase for the second half of 2018, signaling that's when the benchmark will start moving away from the current minus 0.5 percent.
Skingsley said the bank will proceed gradually when it starts. Policy makers won't move "quickly here given that we have a difficult history, but that's our forecast."
"We take it as we go along and we are data dependent but we see room for normalization given that inflation is back on target," she said. "Data can also work both ways, it doesn't have to mean that the risks are on the downside. The risks are pretty balanced at the moment."

For the Riksbank to bring forward its current forecast, Skingsley said she would need to see further cyclical outlook improvements and "surprisingly strong" wage increases.
But looking at it structurally, there will be pretty "low wage pressure" going forward, she said.
— With assistance by Love Liman, and Niklas Magnusson
Before it's here, it's on the Bloomberg Terminal.
LEARN MORE