Kentucky's Medicaid Work Requirement Isn't Only Target in Court
By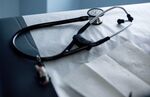 Kentucky's proposed work requirement for Medicaid recipients is just one aspect of the state's overhaul of the health-care plan that some experts say puts it at risk of being overturned in court.
The proposed class-action suit filed Wednesday in federal court in Washington contends the rules contradict the stated purpose of Medicaid, which is to encourage coverage. They cite more documentation of work and income and lockout periods for people who fail to pay revised premiums on time or miss re-certification deadlines.
The income documentation requirement is a particular problem for lower-wage workers "whose income can fluctuate considerably from month to month or season to season," said Deborah Bachrach, who ran New York state's Medicaid program and advises clients on health-care law Manatt Phelps in Manhattan. Kentucky's proposal just "adds hoops that an individual has to jump through in order to maintain health care."
One Kentuckian seeking to avoid those hoops is plaintiff Alexa Hatcher, a 29-year-old college student who works at a food pantry, according to the complaint. Hatcher fears she'll get booted off Medicaid after she graduates because her fluctuating work hours and income will make it difficult to document. Getting locked out of the program would deprive her of medication she needs for several ailments, including depression, the suit states.
Before it's here, it's on the Bloomberg Terminal.
LEARN MORE