Abe to Use Olympic Visit to Push South Korea on Sex-Slavery Issue
By
Japanese prime minister to attend Winter Games in South Korea

Some in Japan's ruling party had called for Abe to stay away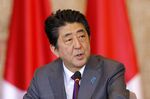 Japanese Prime Minister Shinzo Abe is planning to attend the opening ceremony of the Winter Olympics in South Korea next month, despite flaring tensions between the two U.S. allies over decades-old disputes.
Abe told reporters in Tokyo on Wednesday he would meet President Moon Jae-in, and convey Japan's position on so-called comfort women -- many Korean -- trafficked to Japan's military brothels before and during World War II. The two countries have clashed in recent weeks after South Korea said a 2015 deal on the sex slaves was flawed.
Abe said he would call on Moon to cooperate closely with Japan and the U.S. to deal with the North Korean threat and to maintain maximum pressure on the Pyongyang regime. Tokyo's stance is at odds with Seoul, which is preparing to welcome a North Korean delegation to the Pyeongchang Olympics starting February 9.
South Korea's presidential Blue House welcomed Abe's planned visit, with spokeswoman Shin Jeeyeon saying in a text message that the two countries would coordinate to make the trip a success.
"Moon and Abe meeting in Pyeongchang could be a moment for bilateral unity," said Tobias Harris, a Japan analyst at Teneo Intelligence in Washington. "Although both have to play tough for domestic audiences, both know that they have to cooperate to counter North Korea and both governments have talked about a forward-looking approach to the relationship."
The decision to attend the ceremony may ultimately have been swayed by Abe's goal of improving long-fraught ties with China. Abe has repeatedly called for an early trilateral summit with South Korea and China as a stepping stone to a potential visit to Beijing later in the year, and snubbing Moon's invitation could spoil his chances of this diplomatic success.
'Flawed' Deal
Members of Abe's ruling party have clashed over whether he should attend the event, amid anger over the 2015 deal that was meant to settle a decades-old dispute. Japan paid 1 billion yen ($9 million) to South Korea under the agreement, which Moon has criticized as insufficient but decided against scrapping. Abe and his government have repeatedly dismissed this idea.
A survey published by the Asahi newspaper this week found 79 percent of respondents said they couldn't agree with the way South Korea has handled the agreement. Fifty-three percent said he should attend the Olympic ceremony, compared with 30 percent who said he shouldn't.
Tensions between Japan and South Korea were evident at a banquet Moon held last month for U.S. President Donald Trump. The menu featured shrimp caught in waters off Dokdo, islands controlled by South Korea that are also claimed by Japan, where they're called Takeshima. One former comfort woman also attended.
Next month's Olympics are turning into one of the most politically charged in recent memory. After months of missile and nuclear tests and a war of words between Trump and North Korean leader Kim Jong Un, the two Koreas agreed this month to march jointly at the opening ceremony under a unified flag.
— With assistance by Kanga Kong
Before it's here, it's on the Bloomberg Terminal.
LEARN MORE