Italy's PM Says He's Skeptical of 'Populist' Right-Wing Alliance
By and
Italian Prime Minister Gentiloni comments in Davos interview

Polls before March 4 election suggest a hung parliament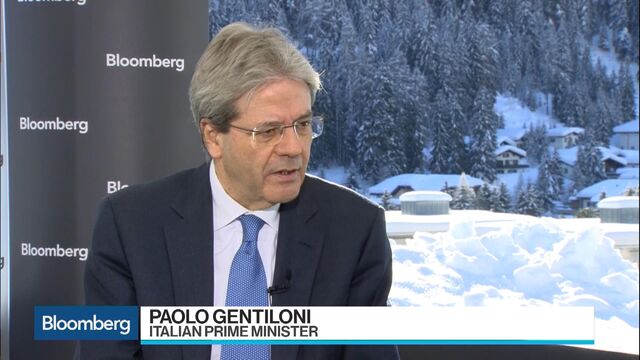 Italian Prime Minister Paolo Gentiloni said that his party has no plans for a coalition with former premier Silvio Berlusconi's center-right bloc after March elections.
Gentiloni, who will contest the election for the ruling Democratic Party said that while Berlusconi himself was no populist, the bloc he leads is dominated by "populist and anti-EU forces." The billionaire's coalition could not even agree on "the 10 or 20 main issues of contemporary society."
"A coalition with the right wing and center-right is not in our plans," Gentiloni, 63, said in an interview on Wednesday at the World Economic Forum in Davos, Switzerland.
Polls ahead of the March 4 election put the anti-establishment Five Star ahead of the ruling Democratic Party led by former premier, Matteo Renzi, by some 27 percent to 23 percent. A coalition including Berlusconi's Forza Italia party and its right-wing allies, the Northern League and Brothers of Italy, would place first with as much as 39 percent of the vote.
Hung Parliament
Yet with no bloc commanding a parliamentary majority, the election risks being inconclusive and stoking political instability in continental Europe's third-largest economy.
"Italy is and will remain a stable country," Gentiloni said. "The issue is how long it will take to form a government."
Berlusconi or Five Star: Italy Loses Either Way, Minister Says
Gentiloni made the case for a continuation of the reform process he said his government has pushed. He sought to paint Italy's situation in the European context, and warned against dismissing the reasons behind the rise of populism, citing migration and an inability to reduce inequality.
"If there is a part of the political parties exploiting this, playing with politics of anger and fear, I think they have their space, I don't think they will prevail," he said.
Asked about the risk posed by rise of Five Star on a platform that originally included opposition to the euro, Gentiloni issued another subtle warning.
"We should be very cautious to disrupt and derail the mechanism that in the last years brought us almost in all relevant economic areas of the world to a dynamic of growth," he said.
Before it's here, it's on the Bloomberg Terminal.
LEARN MORE