GE Sticks to 2018 Profit Forecast, Sending Shares Higher
By
Jet engines, health care help company steady financial results

CEO Flannery says cash performance was above expectations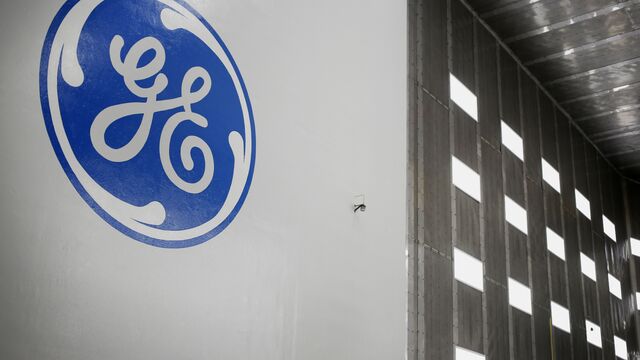 General Electric Co. stuck by its profit expectations for this year, tamping down fears that problems in its power-equipment and finance operations would force the beleaguered manufacturer to backtrack.
Strength in the jet-engine and health-care businesses are shoring up confidence in the forecast of $1 to $1.07 a share in adjusted 2018 earnings, GE said Wednesday. Investors had been bracing for bad news after the company last week disclosed a larger-than-expected charge tied to a mostly forgotten insurance unit.
The results "demonstrate some of the early progress we are seeing from our key initiatives," Chief Executive Officer John Flannery said in a statement. "Cash performance was above expectations and our visibility and execution on cash is improving."
The report gives a boost to Flannery's efforts to foster a turnaround amid one of the deepest slumps in GE's 125-year history. The company was the worst performer in the Dow Jones Industrial Average last year as GE dealt with cash-flow shortfalls, a management shakeup and weak demand for gas turbines, locomotives and oilfield equipment.
GE climbed 2 percent to $17.22 ahead of regular trading in New York. The shares fell 3.2 percent this year through Tuesday, adding to a 45 percent decline in 2017.
The company closed the tumultuous year by posting adjusted 2017 earnings of $1.05 a share. That was in line with depressed expectations, but well below the $2 target Jeffrey Immelt stuck by almost until he stepped down as CEO in mid-2017.
For a Bloomberg Gadfly column on why GE's reprieve may be brief, click here
In the fourth quarter, adjusted profit fell to 27 cents a share, slightly below the 28-cent average of analysts' estimates compiled by Bloomberg. Revenue was up slightly in GE Aviation and profit rose 2.1 percent as the business boosts production rates on a new jet engine. Sales increased 5.9 percent in GE Healthcare.
'Predictably Messy'
Industrial cash flow was $7.4 billion on an adjusted basis. The total "looks OK," particularly as the company dealt with "a predictably messy quarter," Stifel analyst Robert McCarthy said in a note.
The sprawling company may be in for bigger changes this year after Flannery said last week that he would consider all options to increase shareholder value, including potentially separating GE's businesses into standalone companies. At a minimum, he's looking to sell $20 billion in assets.
In a report free of "landmine adverse announcements," investors are likely to focus instead on the "apparent faster pace for divestitures and be reassured by GE's efforts to expand its cost reduction targets for the company and particularly its challenged power business," Nicholas Heymann, an analyst at William Blair, said in a note.
One of the divisions potentially in play, GE Power, is facing an extended downturn in the global gas-power market. Sales in that unit fell 15 percent in the fourth quarter.
Read more: Baker Hughes reassures investors with a strong fourth quarter
"Power was down significantly and we expect market challenges to continue," Flannery said.
The results exclude several large charges GE incurred during the quarter, including $6.2 billion related to a portfolio of insurance policies in a legacy business.
Before it's here, it's on the Bloomberg Terminal.
LEARN MORE