Ford Looks to Trim Costs After Profit Sags
By
'Not satisfied' CEO says results reinforce need to slash costs

Rival carmakers' operations are in better shape, CFO says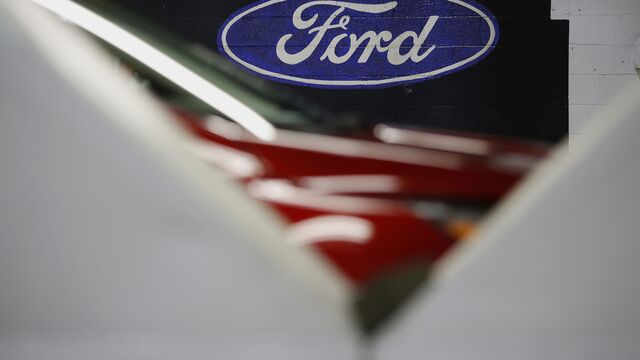 Ford Motor Co. has stepped onto the scale and found it's out of shape.
The automaker signaled it's even more resolute in the diet prescribed by its new CEO after reporting another underwhelming profit on Wednesday. Ford hasn't coped well with rising costs because of bloat within its product lineup and engineering budget.
Ford "should still be performing at a higher level" despite raw materials getting more expensive for all automakers, Chief Financial Officer Bob Shanks said. Those costs and adverse exchange rates have exposed Ford's "lack of fitness."
After years of Ford posting a disappointing profit margin, Chief Executive Officer Jim Hackett has laid out a regimen that includes slashing $14 billion in spending on materials and engineering over the next five years. Along the way, the company will kill off struggling car models and offer far fewer iterations of models that do survive.
Swelling Costs
Ford's fourth-quarter earnings reinforced the problem it's had keeping costs under control. While automotive revenue rose to $38.5 billion and beat estimates, profit matched the preliminary result that the company reported last week, which prompted the biggest selloff in almost 18 months.
Since Ford issued a profit warning on Jan. 16, its shares have slumped by almost 12 percent. The stock fell 4 percent in New York to $11.57 Thursday, the lowest close in more than four months. Ford rose just 3 percent last year, trailing gains by General Motors Co. and Fiat Chrysler Automobiles NV.
Investors "want to believe and they want to get on board, but they're frustrated that we're not giving them the facts or the narrative that's comprehensive enough to do so," Shanks said in an interview. "We have work ahead of us in terms of developing our narrative in a more comprehensive way that connects the now with the far. I understand that and we are working on that."

Shanks said Ford may have an investor event later this year where it will reveal plans in more detail. For now, "the thing that we aren't going to do is get ahead of our skis relative to talking about things that we're not prepared and ready to talk about," he said.
Ford has warned that rising prices for steel, aluminum and other metals, plus wrong-way currency swings, could be a $1.6 billion headwind this year, after dealing a $2 billion blow to 2017 results. When asked why these factors are affecting Ford and not its peers, Shanks was candid.
"They're fitter and so they're still able to generate -- despite whatever hit it is to their business -- they're still able to hit a margin that's appropriate," he told reporters at Ford headquarters in Dearborn, Michigan. "Our issue is that we can't do that. That's why the fitness initiatives are so extremely important to us."
Profit Warning
When warning last week that profit will decline to between $1.45 and $1.70 a share in 2018, Ford laid out a plan to cull cars and focus only on low-volume, high-margin models. Products like the Escape and EcoSport crossovers will only be offered in 10 or 20 iterations, a 98 percent reduction from the plethora of trim levels and options available now.
Read more: Fiat Chrysler Affirms Forecast for Profit Jump After Truck Shift
Wall Street has grown wary of Ford. With its forecast for this year, the automaker reneged on former CEO Mark Fields's promise that earnings would rebound after 2017. Instead, Hackett warned at a conference last week that this will be a "bad year."
"I and my team are not satisfied with this level of performance," Hackett said on a conference call. "We see 2018 as the opportunity to prove to you that we can sharpen operational execution."
While Hackett, 62, is cutting costs elsewhere within the business, he's also spending big to roll out robot taxis, driverless delivery vehicles and electrified autos over the next few years.
'Lot of Frustration'
"There's a lot of frustration," David Whiston, a Chicago-based auto analyst with Morningstar, said before Ford released earnings. "People feel like it's not going to get better any time soon."
While F-Series pickups continue to perform well for Ford, the top-selling vehicle line in America since the Reagan administration is about to be challenged by revamped rivals. GM unveiled a redesigned Chevy Silverado and Fiat Chrysler showed a new Ram 1500 last week at the Detroit auto show.
Ford has new model introductions of its own, with plans to roll out 23 vehicles worldwide this year. Those include a hot rod Edge crossover and two large SUVs, the Expedition and Lincoln Navigator. Next year, the automaker will bring back the Ranger mid-size pickup in the U.S. after it was dropped from the market in 2011.
Over the next five years, Ford will begin generating "quite a nice return" from offering digital services to cars, Shanks said on the conference call, without elaborating.
M&A Activity
Ford announced Thursday it's acquiring two technology companies and reorganizing its mobility group to promote innovation and start generating the return Shanks promised. Its mobility unit is buying Autonomic, a company it's already working with to scale up its fledgling business. The carmaker's also buying TransLoc, which provides software platforms for transit firms, cities and universities to improve public transportation.
The cost of the acquisitions was not material, Neil Schloss, CFO of Ford Smart Mobility, said on a call with reporters.
In the race to electrify its lineup, Ford lags GM, which already sells the battery-powered Chevrolet Bolt, as well as Tesla, which has a larger market value. GM also plans to roll out robot taxis for testing next year, roughly two years before Ford.
"Ford is right to focus on new product launches and mobility efforts, but until there is perceived stability in operating margins and traction for new initiatives, we see little change in valuation multiples," James Albertine, an auto analyst with Consumer Edge Research, wrote in a report to clients. He lowered his target price for the shares by $1 last week.
Before it's here, it's on the Bloomberg Terminal.
LEARN MORE