Five Things You Need to Know to Start Your Day
Get caught up on what's moving markets in Asia.
By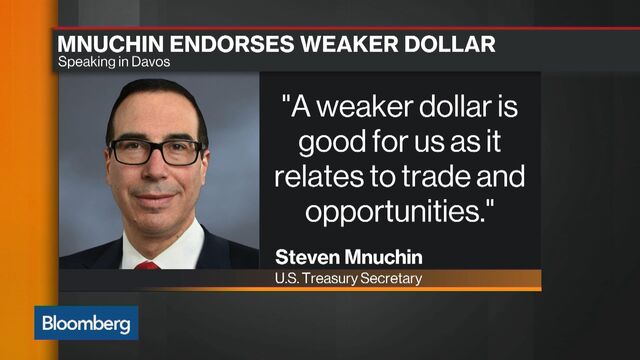 Want to receive this post in your inbox every morning? Sign up here.
The U.S. Treasury Secretary talks down the dollar, while China looks to go on a trade-pact binge and the European Central Bank meets for the first time this year. Here are some of the things people in markets are talking about.
Dollar in the Dumps
A day before Trump's scheduled arrival in the Swiss ski resort of Davos for the World Economic Forum's annual meeting, Treasury Secretary Steven Mnuchin endorsed the dollar's decline as a benefit to the American economy and Commerce Secretary Wilbur Ross said the U.S. would fight harder to protect its exporters. "Obviously a weaker dollar is good for us as it relates to trade and opportunities," Mnuchin told reporters in Davos. The currency's short term value is "not a concern of ours at all," he said. "Longer term, the strength of the dollar is a reflection of the strength of the U.S. economy and the fact that it is and will continue to be the primary currency in terms of the reserve currency," he said. Of course, there's a long history of U.S. Treasury Secretaries and dollar commentary…
China Trade Deals
Just as the U.S. throws up new barriers to cross-border commerce, its largest trading partner China is redoubling its efforts to seal free-trade agreements. From deals with blocs including the Association of Southeast Asian Nations to bilaterals with tiny countries like Maldives, China's FTAs already cover 21 countries. That compares with the 20 countries covered by U.S. agreements. More than a dozen additional pacts are being negotiated or studied, according to the Ministry of Commerce.
ECB Meets
There's one question European Central Bank President Mario Draghi won't be able to ignore at his first policy meeting of the year on Thursday: whether the euro is too strong for the currency bloc's health. The euro's surge raises the prospect that the Governing Council will reinstate language in its statement warning that volatility is a source of uncertainty that requires monitoring. That wording was last used in September after a 14 percent gain since the start of the year -- and prompted the euro to weaken over the next two months. Also, economists have brought forward their estimate of when the ECB will set an end-date for its bond-buying program, amid signs that more optimistic views on inflation might be gaining sway among policy makers.
More From Davos
So many global elites, so little time. China will introduce more reform measures to open up its economy this year, according to Liu He, the top financial and economic adviser to President Xi Jinping, in remarks on Wednesday. Ray Dalio, founder of Bridgewater Associates, predicted  that Federal Reserve officials will tighten policy faster than they've signaled and said bonds face the biggest bear market in almost 40 years. He also said that economic growth is in the late stage of the cycle, but could continue to improve for two more years. Treasury yields extended their climb shortly after his comments. French President Emmanuel Macron declared "France is back" as he used the main stage at Davos to argue the global elite needs to invest, share and protect in a bid to narrow inequalities that have resulted from excess global capitalism. Google is "happy to pay more tax" according to Sundar Pichai. And Russia's deputy prime minister says members of the U.S. delegation "don't want to talk."
Coming Up…
The S&P 500 closed lower for the first time in four days after swinging between gains and losses, leaving Asia stocks poised to start Thursday in the red, though a handful of key eco releases should make for a lively session. N.Z. inflation data kicks things off, before South Korea is expected to report that its economy slowed down in the fourth quarter. Later in the day Malaysia's central bank is expected to raise rates and Hong Kong will release December trade figures. Rate decisions are due in Norway and Ukraine in addition to the one from the ECB. The U.S. day brings data on new home sales, as well as earnings from Intel, LVMH and 3M.
What we've been reading
This is what caught our eye over the last 24 hours.
— With assistance by Garfield Clinton Reynolds, Enda Curran, Jan Dahinten, and Piotr Skolimowski
Before it's here, it's on the Bloomberg Terminal.
LEARN MORE