Europe Should 'Play Its Own Game' on Free Trade, Gentiloni Says
By
Italian premier speaks in Bloomberg TV interview in Davos

Trump's measures against free trade threaten growth: Gentiloni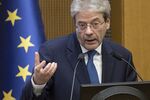 Italian Prime Minister Paolo Gentiloni said U.S. President Donald Trump's protectionist push threatens global growth, urging Europe to "play its own game" to fill any gap left by American businesses.
Gentiloni said in an interview with Bloomberg Editor-in-Chief John Micklethwait at the World Economic Forum in Davos on Wednesday that all leaders were allowed to protect their own workers. "But there is a limit and the limit is defending our free trade, defending the model which has brought us to this kind of growth," the premier said in the TV interview.
After Trump slapped tariffs on solar panels and washing machines earlier this week, Gentiloni said there is an opportunity for "us, the Italians, the Germans, the French and the Europeans as a whole to play a role."
"We now have discussions with Japan, with Latin America," Gentiloni said. "I hope we will close these discussions soon, and this is the way to show that if there is a gap, Europe is ready to fill this gap."
Before it's here, it's on the Bloomberg Terminal.
LEARN MORE