markets
Draghi Sees Little Help From Rising Oil in Boosting Inflation
By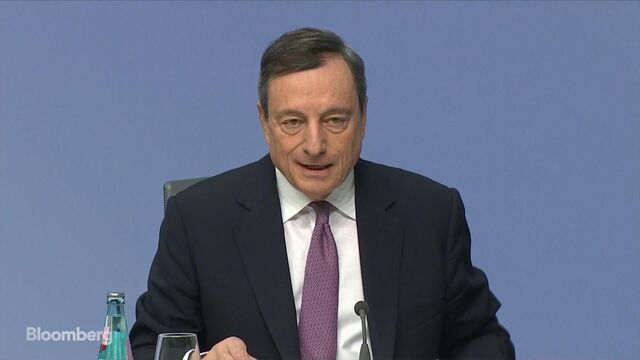 Mario Draghi doesn't expect to get much help from higher oil prices in lifting euro-zone inflation.
The European Central Bank president writes in a letter released on Wednesday that the gap between headline and core measures of inflation as presented in the most recent forecast shows energy will only slightly bolster price growth this year. It won't make a contribution in 2019 and 2020.
"Along with this relatively reduced direct influence of energy inflation on HICP inflation over the projection horizon, the indirect and second-round effects of energy inflation are also expected to be quite limited in the near future."
After more than three years of unprecedented stimulus, inflation remains well below 2 percent and isn't forecast to return to the ECB's goal before at least the end of 2020. But with the economy enjoying robust growth and signs of wages picking up, some Governing Council members have pushed to set an end-date for asset purchases.
Others, including Vice President Vitor Constancio have raised the alarm recently that a strengthening euro will damp price pressures, including those from more expensive commodities.
In the letter, Draghi said the bond-buying program hasn't led to "statistically significant" exchange-rate shifts.
"Such movements remain a side-effect of policy and are neither its main transmission channel, nor its objective."
Before it's here, it's on the Bloomberg Terminal.
LEARN MORE