markets
Bull Market Signals Recovery for World's Worst Stocks of 2017
By
Qatar's equity benchmark rebounds 21% from November's low

Benchmark still below level before spat with neighbors started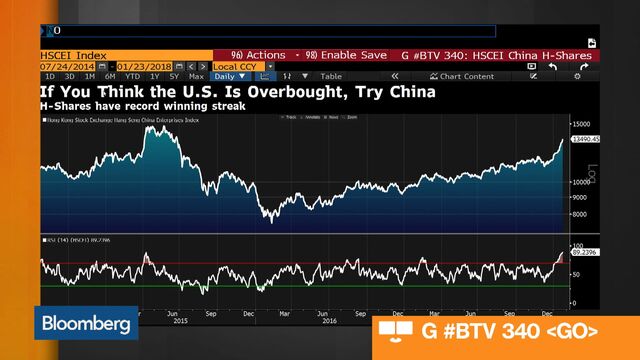 After a spat with neighbors turned its stocks into the biggest losers among global peers last year, Qatar's benchmark index has entered a bull market.
With generous dividends and relatively cheap valuations attracting investors, the QE index has advanced 21 percent from a six-year low in November. The stocks have been on the rise since the country said in December it will increase spending.

The gauge, which slumped the most in local currency terms out of 96 benchmarks tracked by Bloomberg in 2017, remains 5.7 percent below the level it was at before a group of countries led by Saudi Arabia cut diplomatic and transport links with Qatar in June.
Most Qatari companies are expected to distribute "generous dividends leading to attractive dividend yields" for 2017, analysts at QNB Financial Services led by Head of Research Saugata Sarkar wrote in a note to clients this month. "For the time being, valuations are attractive versus the region's forward price-to-earnings multiples and dividend yields remain superior to the region."
Members of the QE index started 2018 at levels near the cheapest in eight years relative to emerging markets. Stocks in the gas-exporting nation have been on the rise since the country announced in December that it expects to increase spending this year. The index was fewer than five points away from entering a bull market on Jan. 15, but its rally was interrupted after the United Arab Emirates said Qatari fighter jets had "intercepted" two Emirati commercial planes. Qatar denied the claims.
The near-term outlook for Qatar is "not as challenging as perceived," as its economy has proved more resilient that expected to the standoff, according to Jaap Meijer and Michael Malkoun, analysts at Arqaam Capital in Dubai. The firm added Qatar National Bank QPSC, the Gulf state's biggest lender, to its core portfolio earlier this month, citing an attractive valuation and the lender's strong government links.
While Cairo-based investment bank EFG-Hermes remains underweight on Qatar's market, it recommends exposure to QNB, Qatar Electricity & Water Co. and telecom operator Ooredoo QPSC, strategist Mohamad Al Hajj wrote in a report to clients on Jan. 14.

The 14-day relative strength index for the QE index has in the past three sessions closed above 70, a level that some technical analysts see as a signal that the gauge may have risen too far, too quickly.
Below are the 10 best performers in the QE Index this year: 
| | |
| --- | --- |
| Company | Gain (in %) |
| Doha Bank  | 15.6 |
| Barwa Real Estate | 15.3 |
| Qatar International Islamic Bank  | 15.2 |
| Industries Qatar | 15.1 |
| United Development | 14.5 |
| Qatar Gas Transport (Nakilat) | 13.5 |
| Qatar Navigation  | 12.6 |
| Qatar Electricity & Water Co.  | 12.6 |
| Medicare Group | 12.4 |
| Ooredoo  | 10.7 |
Before it's here, it's on the Bloomberg Terminal.
LEARN MORE