Brazil's Temer Appeals to Davos Elite
By
Elections won't derail reform agenda, Temer tells investors

"I don't need the market," Lula says before appeal court trial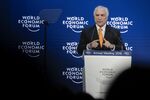 Brazil's President Michel Temer on Wednesday said that, after years of crisis and recession, Latin America's largest economy is on a recovery path that won't be derailed by elections.
"Many are asking if our journey isn't threatened by up-coming elections in Brazil," Temer said at a World Economic Forum panel in Davos. "Let me tell you, with conviction: we'll complete our journey," he said, promising that his flagship pension reform will be approved this year and that nobody will regret investing in Brazil.

Temer's optimistic message, directed to global investors and business leaders, contrasted with that of former President Luiz Inacio Lula da Silva, who told a crowd of supporters in the southern Brazilian city of Porto Alegre just hours earlier that he would focus on the people and not financial markets if re-elected president this October.
Lula could be barred from running in the election if an appellate court in Porto Alegre upholds his criminal conviction on Wednesday. The clear front-runner in presidential polls, he has promised to undo Temer's pro-business reforms that have supported a rally in Brazilian financial markets.
It's Judgment Day in Brazil as Lula Faces Court Verdict
"The market's afraid of Lula," the former president said at a speech late on Tuesday. "I don't need the market. What I need is for the people to take part."
Before it's here, it's on the Bloomberg Terminal.
LEARN MORE