business
Asia's Richest Banker Says Global Stocks Are Underpricing Risks
By
Kotak joins global CEOs, IMF in warning against complacency

Keeping 'powder dry' to play in India's bad-loan market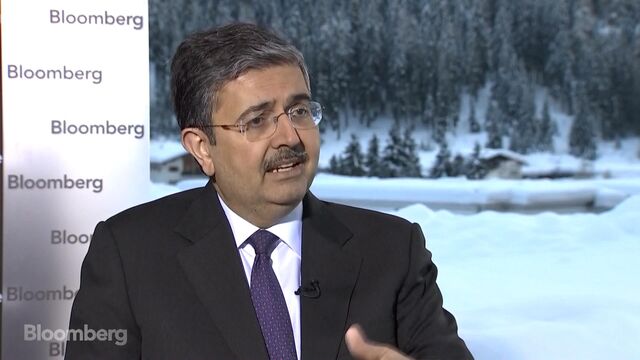 Follow our full coverage of Davos 2018 here.
Uday Kotak, billionaire managing director of India's Kotak Mahindra Bank Ltd., joined a chorus of chief executives warning of complacency in world equities.
"Worldwide there is an exuberance and underpricing of risk in equity markets," Kotak said in an interview with Bloomberg Television on the sidelines of the World Economic Forum in Davos on Tuesday. "People are complacent whether it is U.S. or Europe or anywhere else."
The S&P 500 Index closed at a fresh record on Tuesday as the strong start to the earnings season continued. Investors in emerging markets are also holding on to the risk-on stance, with exposure to developing-world assets at the highest level since April 2015, according to the Institute of International Finance.
Global finance executives gathered in Davos on Tuesday however said investors could be wrong-footed by central banks raising interest rates, after the International Monetary Fund warned Monday that a recession may be closer than many acknowledge even though growth is picking up.
Read about the IMF's outlook on global growth
Kotak, whose $10.9 billion fortune makes him Asia's wealthiest banker and the eighth-richest person in India, said Prime Minister Narendra Modi's clampdown on cash is pushing investments into the nation's stock market. The main equity gauge has gained about 45 percent since the end of 2016, one of the best performances among more than 100 global indexes tracked by Bloomberg.
'Big Funnel'
"It is creating a big funnel of money coming from domestic savers into a small pipe of stocks," Kotak said. "I would be cautious on the small and mid-cap sectors within the Indian equity market, which have the risk of getting a little bubbly."
He's also biding his time in the lookout for cheap assets as India tries to clean up $210 billion of stressed loans in its banking system. Kotak Mahindra Bank's bad-loan ratio stood at 2.3 percent of total lending, latest data show, about a quarter of the level seen in the overall industry.
"You have to be patient. We can take our time and pick the right opportunity at the right price," Kotak said. "There is a lot coming in the next 12 to 18 months and we are actually keeping our powder dry."
— With assistance by Keith Campbell
Before it's here, it's on the Bloomberg Terminal.
LEARN MORE