politics
Justice Department Demands 'Sanctuary Cities' Disclosures
By and
New York City to California told they must provide information

De Blasio calls move racist, skips a White House meeting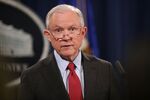 The U.S. Justice Department demanded that almost two dozen cities, counties and states -- from New York City to California -- prove that they're sharing information with federal immigration authorities about people in the country illegally or risk subpoenas and cuts in public-safety grants.
Stepping up the Trump administration's fight against "sanctuary cities" that limit their cooperation with federal immigration authorities, the department sent 23 jurisdictions letters Wednesday demanding the production of documents showing whether they're restricting information-sharing.
"Protecting criminal aliens from federal immigration authorities defies common sense and undermines the rule of law," Attorney General Jeff Sessions said in a statement. "We have seen too many examples of the threat to public safety represented by jurisdictions that actively thwart the federal government's immigration enforcement. Enough is enough."

New York Mayor Bill de Blasio denounced the move as a renewal of the Justice Department's "racist assault on our immigrant communities," saying in a tweet that he was canceling plans to attend a meeting that President Donald Trump is holding with mayors from around the country at the White House on Wednesday.
The Justice Department is seeking copies of policies, laws, or directives that prevent law enforcement officials from sharing information with federal officials, including Immigration and Customs Enforcement.
Cities, counties and states with sanctuary laws say the policies are necessary to maintain trust between immigrant communities and law enforcement officials.
See a QuickTake video on the issue of sanctuary cities
The Trump administration says it's a matter of maintaining public safety. Trump campaigned for the White House denouncing "weak and foolish policies" that he said let criminals into the country and then failed to deport them. Among cases he publicized was the death of Kathryn Steinle, who was shot in San Francisco in 2015 by an undocumented immigrant who had previously been deported multiple times.
Jurisdictions targeted include California, which became a sanctuary state last October, along with several of its cities and counties, and Chicago, where a judge blocked the Trump administration from withholding public-safety grants over its sanctuary city policies.
(
Updates with de Blasio comment in fourth paragraph.
)
Before it's here, it's on the Bloomberg Terminal.
LEARN MORE