markets
SandRidge Rejects Board Seats for Icahn, Invites Investor Bid
By
Activist bid for directors not in best interests' of driller

Billionaire investor had scuttled acquisition, blasted board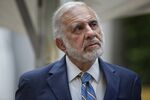 SandRidge Energy Inc. fired the latest salvo in its tiff with Carl Icahn, rejecting the activist investor's call for board seats and saying it would consider a premium takeover bid from "any party, including Mr. Icahn."
The oil and natural gas driller, in a letter released Tuesday, said it was "not in the best interests of all shareholders" to accept Icahn's bid to replace two of its five directors or to change company bylaws to require a supermajority vote on major deals and other decisions. The Oklahoma City-based explorer loosened a so-called poison pill provision limiting investors' ability to challenge board decisions, but not to the extent Icahn had demanded.
"The board believes that changes to the composition of the board of directors and other major governance changes, as proposed by Mr. Icahn, should be made with the fully informed approval of a majority of all of the company's shareholders, rather than at the behest of one," the company said in the letter.
SandRidge scrapped a proposed $750 million takeover of explorer Bonanza Creek Energy Inc. last month, after an outcry led by Icahn. The New York-based investor said in a letter to the company earlier this month that he still has "grave concerns" about its governance. Icahn said he intends to nominate one new director himself at the company's annual meeting and also urged SandRidge to let shareholders vote on big transactions in the future.
A representative for Icahn didn't immediately return a message seeking comment on Tuesday. Icahn is the company's largest shareholder, with a 13.5 percent stake as of late November, according to data compiled by Bloomberg.
— With assistance by Scott Deveau
Before it's here, it's on the Bloomberg Terminal.
LEARN MORE