business
Europe and Draghi Reap Davos Praise for Return of Economic Mojo
By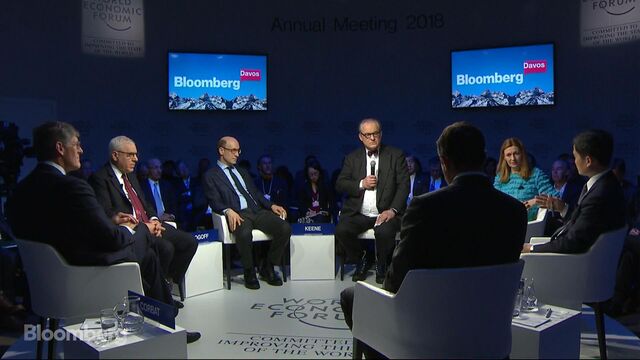 Follow our full coverage of Davos 2018 here.
Europe, too-often a poster child for economic and political crisis, is suddenly finding itself heaped with praise at the World Economic Forum.
"Europe, many thought was dead and gone years ago," said David Rubenstein, co-founder of the Carlyle Group. "Despite Brexit, the problems in Spain, the weakened German government, a new French government, Europe has done quite well economically. It's a very attractive place to invest."

The admiration from the global elites meeting in Davos, Switzerland, is remarkable for the region. Only last year, delegates were pondering whether the European Union was heading for a break-up after the U.K. voted to leave the bloc and populists looked to have a shot at power in France.
Keep up with the WEF debates in our Davos Update
Instead, the euro area recorded its strongest economic growth in a decade in 2017, and the election of reformist Emmanuel Macron as French president means a chance of further progress that could reinforce the currency union.
In Pictures: The 2018 World Economic Forum Arrives in Davos
"Europe's been a phenomenal story," said Harvard University professor Kenneth Rogoff. "It's the most surprising thing of why global growth is so good."
Wide Awake
That was echoed by Blackstone Group LP Chief Executive Officer Stephen Schwarzman. "Europe's doing really well," he said. "The Europeans in the areas that we invest basically had lost confidence. Now Europe has awakened."

Still, Anne Richards, chief executive of M&G Investments, noted that the region continues to "muddle through" politically, with the risk that the fundamental weaknesses that threatened to unravel the EU and the single currency during the crisis will remain unaddressed.
Another concern is whether the euro area will be ready to cope with the departure of the person who has pushed through much of the stimulus that averted deflation, cut unemployment and revived some of the "animal spirits" the region lacked. European Central Bank President Mario Draghi will retire in October 2019.
"Europeans should take our key man insurance on him," Rubenstein said. "When he goes, a real giant will have gone because he's done an incredible job."
For some delegates, Europe has the opportunity to translate its economic revival into a weightier role on the world stage -- just as U.S. President Donald Trump ramps up his own protectionist stance. Trump is due to attend Davos later this week.
Read more: Trump Marks Second Year With Asia Tariffs World Has Feared
"The EU has an important chance at this moment, which is to reaffirm itself as a leading region in the world, and a leading region that believes in open trade, that believes in international investment, that believes in openness in general," said Manuel Caldeira Cabral, Portugal's economy minister. "Countries like Brazil and Argentina are committed to trade openness which is something new -- and which is something that we should take as a very important opportunity."
Before it's here, it's on the Bloomberg Terminal.
LEARN MORE