Zimbabwe President Seeks to Woo Lenders by Paying Loan Arrears
By and
Country owes money to International Monetary Fund, World Bank

New president says he doesn't plan to cut civil-service size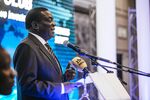 Zimbabwe is committed to repaying arrears to external lenders so that it can resume support programs with institutions such as the International Monetary Fund and end years of isolation from global capital markets, said the country's president.
Emmerson Mnangagwa, the 75-year-old who took over as leader of the southern African country in November after the military pressured Robert Mugabe into resigning, said one of his priorities is reintegrating his country into the global financial system. The economy has halved in size since 2000, credit lines from most lenders have been withdrawn and infrastructure has crumbled.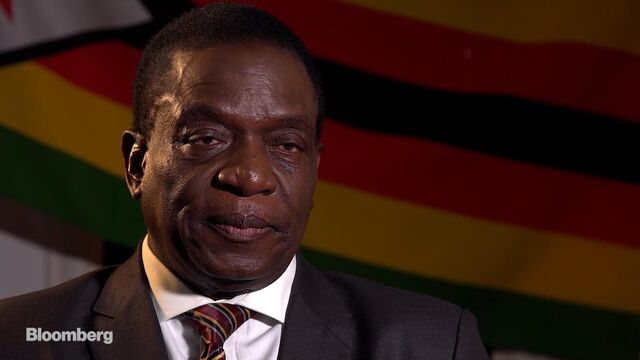 Zimbabwe owes about $9 billion to lenders such as the World Bank and African Development Bank and has fallen behind in payments, with arrears recently amounting to about $1.8 billion. If his bid to revive the economy is to succeed, Mnangagwa will need access to billions of dollars of support.
"There are limitations to engaging with Bretton Woods institutions -- the limitations are as a result of our arrears with those institutions but they are giving positive indications that they would want to accommodate us," he said in an interview in his office in the capital, Harare, last week. "We shall recommit ourselves to paying our debts, our arrears. I believe that they will embrace us in the same manner they are embracing other countries."
To read more about Emmerson Mnangagwa's Zimbabwe plans click here
Re-engaging with international lenders would be a first step for the Zimbabwean government, which is also considering a debut international bond sale so that it can invest in infrastructure.
"If this succeeds, we would really need a substantial injection into our economy, in particular into the productive economy," he said. "Basically a capital injection into capital projects. Infrastructure development is what we want: dams, roads."
Still, the Zimbabwean leader demonstrated little appetite for cutting costs in the manner that the IMF and other lenders have urged.
The country's more than 500,000-strong civil service accounts for about 90 percent of budget expenditure, crowding out investment in much-needed projects such as restoring the capital's water supply and fixing its roads.
Davos Trip
"The economy had shrunk. Many people misunderstand. They think that we have an oversized public service," he said. "That's not the issue. What has happened is the public service is normal, what is not normal is the cake that must be shared. We must focus on growing the cake rather than attacking the civil service, saying it must be reduced."
Mnangagwa will today travel to Davos in Switzerland, the first time a Zimbabwean leader has done so, to try and woo international investment at the gathering of many of the world's most important businessmen and politicians.
"We had become an isolated country, which had ceased to embrace international business," he said. "I believe we are 16 to 17 years behind where we ought to be as a result of that situation."
Before it's here, it's on the Bloomberg Terminal.
LEARN MORE