U.S. Shutdown Takes Hold as Stalemate Persists
By and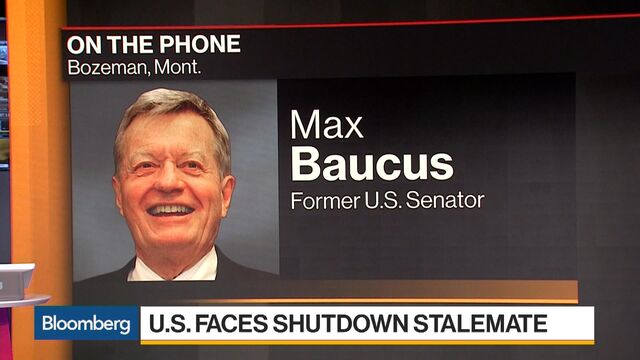 Want to receive this post in your inbox every morning? Sign up for the Balance of Power newsletter, and follow Bloomberg Politics on Twitter and Facebook for more.
The U.S. government shutdown starts to bite today: Some federal offices won't open and many services are suspended after talks in Washington failed to resolve the funding lapse over the weekend.
The lack of a breakthrough may harden both parties' determination to gain leverage from the moment — potentially prolonging the stalemate as Republicans and Democrats frantically blame one another.
The path forward is unclear. A bipartisan group of about two dozen senators is coalescing behind a plan to fund the government through Feb. 8 — along with a commitment to quickly take up immigration legislation — but that hasn't yet received a public endorsement from party leaders.
One of the lead members of the two-party talks — Republican Senator Lindsey Graham — yesterday accused White House staff of hindering a solution, in part by swaying President Donald Trump to strike a hard-right line on immigration.
Market reaction has so far been muted. But an extended shutdown could fuel public anger, cost the U.S. economy and eventually rattle investors. And that may end up being the incentive negotiators need to strike a deal.

Global Headlines
Trump to Davos? | Events are getting under way at the World Economic Forum in the Swiss Alps amid questions about whether the shutdown in Washington will scuttle Trump's plans to speak there on Friday. The White House has held open the possibility the president — who is scheduled to meet with U.K. Prime Minister Theresa May — could still attend if the government remains shuttered. For full Davos coverage, follow our special hub page.
Turkey's onslaught in Syria | Turkish tanks backed by air strikes advanced toward a stronghold of U.S.-supported Syrian Kurdish fighters today, in an offensive that's strained ties with Washington and complicated Russia's efforts to end Syria's seven-year civil war. To read about the challenge the campaign presents to Russian President Vladimir Putin see this analysis by Henry Meyer.
China's Pacific push | With the Trump administration warning of a possible war with North Korea, U.S. allies in Asia are sounding the alarm on another risk: a clash with China in the western Pacific. China's increased air and naval patrols in disputed areas are prompting Taiwan and Japan to strengthen their defenses, boosting the odds of a confrontation.

Saudi graft | Saudi Arabian authorities will likely recover more than $100 billion in settlement agreements in a drive against alleged graft that led to dozens of princes being detained at the Ritz Carlton in Riyadh, Alaa Shahine reports. Talks with about 95 suspects are expected to wrap up shortly. Authorities have agreed to drop charges against almost 90 others who were released.
Which way Europe? | 2018 is shaping up for a decisive battle over Europe's future. French President Emmanuel Macron says the EU needs greater powers to solve key issues, such as the euro crisis and immigration. For others, more "Europe" is part of the problem. As Marc Champion writes, attitudes to the busy Brenner pass between Italy and Austria show how hard this dispute will be to resolve.
And finally... Hundreds of people in Tokyo scrambled as Japan held drills to prepare the densely populated mega-city for the unthinkable: A North Korean missile strike. The drill, Tokyo's first, stood in stark contrast to the false alarm that spurred panic in Hawaii earlier this month. Not everyone thought it was worth it. A small group of protesters held up placards, including one that read: "Is there any point in doing this?"

Before it's here, it's on the Bloomberg Terminal.
LEARN MORE