Why Government Shutdowns Don't Save Taxpayers Any Money
By and
Hiatus in 2013 lasted 16 days and cost government millions

Liquor sat at ports awaiting export; crab season was delayed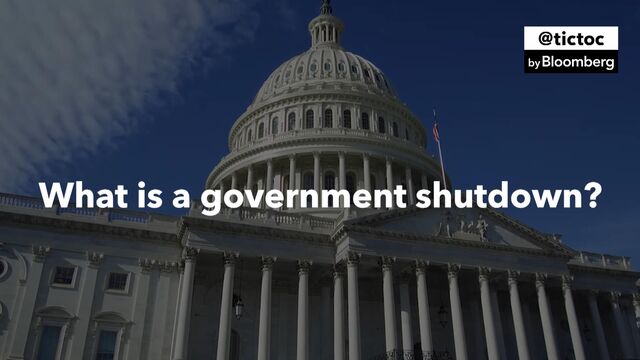 Government services briefly ground to a halt and federal workers were sent home, but don't expect taxpayers to save any money from the government shutdown that was on its way to resolution after three days.
"We are talking about billions of dollars in one form or another that accumulates over time," said Stan Collender, a longtime congressional budget aide who is now executive vice president of Qorvis MSL Group in Washington. "It doesn't save money and it's not good for the economy."
The Senate on Monday cleared the path for a spending bill that would end the shutdown that began at midnight Friday and keep the government open through Feb. 8. Republican leaders said the House would take up the measure and the White House has indicated it will be signed by President Donald Trump.
The 16-day government shutdown in 2013 cost the government $7 million in lost revenue in uncollected entrance fees at national parks and a halt to Internal Revenue Service enforcement collections that averaged $1 billion a week, according to an Office of Management and Budget report on the shutdown.
There wasn't even a savings in payroll: Congress authorized an estimated $2.5 billion in back pay and other compensation for as many as 850,000 furloughed workers after the government reopened.
"It costs money to mothball things," said Douglas Holtz-Eakin, president of the American Action Forum, and former chief economist to the Council of Economic Advisers under George W. Bush. "You are not saving any money. It's not like a private firm laying people off." 
The failure to process paperwork, sign contracts or simply open the doors affected vast swaths of the American public and economy, the OMB report said.
More than 2 million liters of alcohol sat at ports, awaiting export certificates. The Alaskan crabbing season was delayed by up to four days and fishermen lost thousands in revenue because the National Oceanic and Atmospheric Administration hadn't apportioned harvest levels and issued permits. The U.S. Geological Survey missed the weather window to field test a technique to prevent the spread of the invasive Asian carp into the Great Lakes.
Some 700 businesses applied for $140 million worth of loans that were delayed in processing. Social Security Administration was delayed in reviewing applicants for disability payments and the Centers for Disease Control and Prevention cut back on flu season monitoring, according to the report.
S&P Global Ratings said the 2013 shutdown has shaved at least 0.6 percent off of fourth-quarter 2013 gross domestic product growth -- taking $24 billion out of the economy.
The previous government shutdown in fiscal year 1996 was estimated to cost $1.4 billion, according to the Congressional Research Service. That's more than $2.1 billion in current dollars.
Before it's here, it's on the Bloomberg Terminal.
LEARN MORE