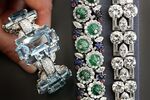 Just as Cie Financiere Richemont SA reissues its classic watch models, so it has turned to an old favorite, with an agreement to take full control of luxury internet retailer Yoox Net-A-Porter SpA.
But this looks like an expensive way to turn back time.
It's easy to see why Richemont would want to increase its digital focus.
Luxury shoppers, particularly the millennials who covet Richemont's Cartier love bangles and Panthere watches, are increasingly comfortable about spending thousands of euros online.
What's more, selling direct to consumers would reduce the reliance on third-party watch sellers. Richemont expects many smaller players to disappear.
The company has overhauled its management over the past year -- including disposing with the need for a CEO. An important element of this has been preparing the company for a more digital future.
But the group has owned Net-A-Porter in the past, and this strategic flip-flop is out of character, given that it usually takes a long-term view. It took control of the business in 2010, and merged it with Yoox, a rival online retailer, five years later. It took its stake to 25 percent of Yoox's ordinary shares, and 49 percent of the total share capital, in the process.
Richemont will pay 38 euros for each Yoox share it does not own, a 26 percent premium to the closing price on Friday. That values Yoox at just over 5 billion euros ($6.1 billion). It had an implied valuation of about 3 billion euros at the time of the merger in 2015. Although the deal multiple doesn't look out of line with recent luxury e-commerce transactions, according to John Guy at MainFirst Bank, the increase in Yoox's implied value means Richemont is paying more in absolute terms. 
Though Yoox sales have risen from 922.7 billion euros in 2015 to 2.1 billion euros in 2017, it has not had an easy ride. Sales last year were disrupted by a warehouse overhaul in its discount luxury arm. In November, the group cautioned that revenue would be at the lower end of its forecast range, after growth suffered in the U.S. and China. That all leaves the goal it set out in mid-2016, of hiking sales and margins through to 2020, looking ambitious.
It is also facing increased competition as luxury brands take more control of their online presence. Last year, LVMH launched its own site for upmarket purchases. Amazon.com Inc. remains a threat, if it can ever crack selling high end products.
At least Richemont can easily afford its latest digital foray. It had net cash of 5.1 billion euros at the end of 2017. It is likely to use some of this to buy Yoox, supplemented by debt.
It obviously thinks paying up for Yoox's expertise, and putting its cash pile to work in the process, is worth it. But with operational challenges and increased competition it will need all of its characteristic patience for this deal to pay off.
Sometimes revisiting the past can be costly. 
Before it's here, it's on the Bloomberg Terminal.
LEARN MORE