markets
Fed Nominee Goodfriend Says U.S. Central Bank Must Stay Alert
By and
Carnegie Mellon professor says he'll promote transparency

Goodfriend is President Trump's third Fed nomination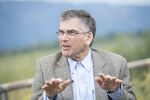 Marvin Goodfriend, a nominee to be a Federal Reserve governor, said he hoped to keep the U.S. central bank alert to future challenges while increasing transparency and accountability.
"Guided by the goals of maximum sustainable employment, price stability, and financial stability, and with lessons from its past, the Federal Reserve must be alert to future challenges," the Carnegie Mellon University professor said in prepared remarks he is scheduled to deliver Tuesday at his nomination hearing before the Senate Banking Committee.
"I intend to draw on my academic and professional experience to promote policies that would further increase transparency and accountability at the Federal Reserve," he added.
Goodfriend is President Donald Trump's third nomination to the Fed Board in Washington as reshapes the leadership of the U.S. central bank. Trump has already picked of Randal Quarles to be a governor and vice chair of supervision, and he elevated Governor Jerome Powell to replace Janet Yellen when her term as chair ends early next month. Trump will have three more governors to chose when Yellen departs.
Fed Experience
Goodfriend is a former Richmond Fed policy adviser and a well-known monetary policy scholar. His research has spanned topics such as central bank independence, transparency and the Fed's role of lender of last resort.
"What most defines his views, at least more accurately than the standard 'dovish' or 'hawkish,' would be an aggressiveness whenever inflation credibility is threatened in either direction," former Fed Governor Laurence Meyer said in a note to clients following Goodfriend's nomination in November.
If confirmed by the Senate, Goodfriend will join the Fed at a time when officials remain vigilant about easy financial conditions and too-low inflation. The Fed's preferred price measure has been under its 2 percent target for most of the past five years, and some financial conditions barometers at the lowest levels in more than two decades.
Goodfriend, 67, has shown himself to be a creative thinker about challenges facing central bankers. At an annual gathering of economists and officials in Jackson Hole, Wyoming, in 2016, Goodfriend gave a paper on how negative interest rates and the possible elimination of paper money might help fight deflation when interest rates were cut to zero.
Negative rates punish savers and banks who hoard cash, while rewarding borrowers. Fed officials say forward guidance that commits to hold borrowing costs lower for longer, as well as asset purchases, would be their main tools if they are forced to cut rates to zero once more.
— With assistance by Christopher Condon, and Joe Light
Before it's here, it's on the Bloomberg Terminal.
LEARN MORE