business
Brexit Bulletin: Macron's Glimmer of Hope
By
French president hints at financial-services deal if May gives ground

Offer on Brexit agreement highlights U.K.'s difficult choices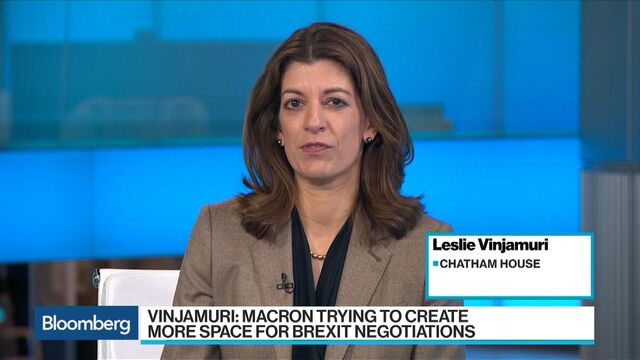 Sign up to receive the Brexit Bulletin in your inbox, and follow @Brexit on Twitter.
French President Emmanuel Macron offered Theresa May a bit more hope this weekend that the U.K. could strike a deal with the European Union that's a bit better than the plain-vanilla trade accord that Brussels insists is all that's on offer. But getting such a deal would require concessions that her party may not allow her to make.
In a BBC interview on Sunday, Macron said that May's stated positions made "full access" to the European Union's single market impossible. He said what was on offer was "something perhaps between this full access and a trade agreement."
The EU position, as set out by chief negotiator Michel Barnier, is that because of the U.K.'s red lines, a Canada-style trade deal is the only option – and it's a path that would do little for the U.K.'s huge service economy and would mark a dramatic downgrade from the access it enjoys now. Macron suggested that the finance industry could be included if May were also prepared to give ground. Asked if it could be included in a deal, he said: "It depends on what you're ready to put on the table in terms of precondition."
Read more: The key quotes from Macron on what Britain can hope for
The subtle shift is interesting because France has tended to take a firmer line in Brexit discussions and also stands to benefit from financial services leaving London for the continent. But Macron made clear that there would be trade-offs.
May's problem there is that there's little her party will allow her to put on the table, Rob Hutton writes. The EU position is that the single market is indivisible and single market access means accepting the influence of the European Court of Justice – a taboo for many Tories. And the pro-Brexit hardliners in her party are becoming more vocal, with Foreign Secretary Boris Johnson re-entering the debate after a period of relative silence and Jacob Rees-Mogg, who now leads a Tory euroskeptic group, calling for the U.K. to leave the single market in 2019.
Brexit Latest
What MPs Want | A majority of members of parliament think staying in the single market is compatible with respecting the referendum result. That's according to a survey commissioned by the U.K. in a Changing Europe. Still, there could be trouble ahead when it comes to the transition, the two-year grace period that is meant to smooth the split: 74 percent of Tory MPs don't accept free movement of people and 63 percent oppose European Court of Justice jurisdiction during the two-year period – both conditions clearly laid down by Brussels. On the Labour side, 56 percent want to stay in the single market, and 90 percent believe that single-market membership is compatible with Brexit, the survey showed.
Business Calls | The U.K. should ensure it stays in a close and comprehensive customs agreement with the European Union, providing tariff-free trade in all goods after Brexit, according to the Confederation of British Industry. Remaining in a customs union with the EU will be far more valuable than striking trade deals elsewhere, according to CBI director general Carolyn Fairbairn. "The idea behind a customs union is simple: a single set of tariffs for goods imported from outside the EU, enabling tariff free trade within it," Fairbairn will say. "It brings no obligations over freedom of movement, or payment and removes some of the heaviest trade barriers."
UKIP II? | Nigel Farage is considering forming a new pro-Brexit party, the Sunday Times reported. Farage is dismayed that UKIP has been riven by internal politics and scandal in the 18 months since he resigned as leader, the newspaper said. He will "head back to the front line" if there was a chance of Brexit not being delivered.
German View | Germany's Brexit coordinator Peter Ptassek had a "friendly reminder" for the British on Sunday. "Sufficient progress in withdrawal questions meant: we are not there yet. More work to be done," he said on Twitter. "Leftovers" will surface when the withdrawal agreement is drafted into legal text, and it must be clear on issues such as the Irish border, he said.
Macron's Honesty | France's Macron also told the BBC's Andrew Marr that if France had a referendum on EU membership, a majority "probably" would have voted to leave "in a similar context." That helps explain the EU's stance on all this.
Making Good on the Pledge | Five Cabinet ministers will urge May to make a pledge that the National Health Service will get an extra £100 million a week after Brexit, the Telegraph reports. The move would partially fulfill a campaign promise made by Boris Johnson and his pro-Leave colleagues that the NHS could get £350 million extra per week. Johnson last week doubled down on the pledge, which was heavily criticized for distorting data.
Labour Lords for Pro-Business Brexit | Labour Lords are vowing to re-write May's key Brexit legislation in the interests of protecting jobs and the economy. Angela Smith, the Labour leader in the Lords, is drafting a series of amendments to the bill designed to ensure there is a smooth transition for businesses between the rules they follow as members of the bloc and whatever comes next. "We will seek to amend the Bill so it becomes an enabling measure for – rather than an obstacle to – a transitional period, as is currently the case," Smith told Bloomberg's Tim Ross in an interview. "The theme that runs through everything we do is that there's a transition that works and doesn't just provide a second cliff edge later on."
More Doubts | U.K. Cabinet Office Minister David Lidington says Britain could rejoin a "reformed" European Union within a generation, suggesting it would be "something for future parliaments to consider," the Daily Telegraph reports. Lidington says it's impossible to predict what the EU will look like 10 or 20 years from now, adding "it's dangerous to say never."
Chaos Warning | There are five key areas where financial firms need clarity on Brexit to avoid financial instability after the split, the Association for Financial Markets in Europe said in a report published on Monday. These include an agreement on data transfers, continuity of contracts, legal jurisdiction, access to market infrastructure and recognition of bank resolution actions.
On the Markets | The pound hit a post-Brexit high against the dollar last week, but it may need stronger-than-forecast data to help it maintain its rally, Charlotte Ryan reports. With traders positioning for further pound gains, some analysts were advocating caution as the U.K. currency's strength didn't appear to be backed up by fundamentals.
And Finally...
"Trade deals may or may not be important. If we were worried about trade, we would have stayed in the European Union."

That's former Conservative Cabinet member Ed Vaizey's breezy condemnation of his party's approach to economic policy and Brexit, in an interview with Robert Peston on ITV on Sunday.

For more on Brexit follow Bloomberg on Twitter, Facebook and Instagram
Before it's here, it's on the Bloomberg Terminal.
LEARN MORE