politics
Shutdown Shadows Pence in Cairo as He Begins Rescheduled Trip
By
Vice president tells airmen en route to Kuwait not to worry

Smoothing feathers ruffled by U.S. decision on Israel capital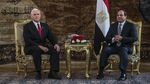 Mike Pence arrived in the Middle East on Saturday, leaving his boss to fight Democrats over an federal government shutdown while he makes good on a three-country visit aimed at consolidating U.S. partnerships in the region.
The vice president was still crossing the Atlantic Ocean on Air Force Two when the shutdown started. He quickly punched out a statement of disapproval targeting Democrats.
Soon after, when his aircraft landed at Shannon, Ireland, to refuel, Pence and his wife Karen slipped inside the terminal, where scores of Air Force members were waiting to fly to Kuwait. He snapped selfies, hugged and shook hands, and assured the service members that their political leaders would ultimately resolve the budget standoff.
"We'll get this thing figured out in Washington," Pence said. "You guys stay focused on your mission."
Pence's diplomatic mission to the Middle East follows Trump's declaration in December that the U.S. would recognize Jerusalem as Israel's capital and move its embassy there. The announcement roiled the region and led Palestinian leaders to cancel scheduled meetings with the vice president, who originally planned to make the trip before Christmas.
'Unconscionable' Shutdown
The Senate's debate on a tax overhaul interrupted Pence's travels then, and the shutdown is shadowing his trip now. But postponing his Middle East visit twice may have been perceived as an insult in the region.
Pence said several soldiers he spoke to raised the issue.
"You have troops headed down range to Kuwait for six months and they are anxious about the fact that they aren't going to get paid right away," he said. "It's unconscionable."
Any deal to restore funding and reopen the government would almost certainly include back pay for troops, meaning they wouldn't see any pay impact if the shutdown is resolved within days. Military paychecks are issued twice a month and are next scheduled for Feb. 1 and then Feb. 15.
Cairo was the vice president's first stop in the Middle East, ahead of planned visits to Jordan on Sunday and Israel on Jan. 22 and 23.
Jerusalem Fallout
Pence hoped hours of meetings and dinner with Egyptian President Abdel Fattah El-Sisi would show the world that Arab and Muslim leaders still want to partner with the U.S., even after Trump's Jerusalem declaration. El-Sisi, who visited the White House in early April, agreed to welcome Pence despite his public disapproval of the announcement.
Pence said he spoke with El-Sisi about the importance of cutting Egypt's diplomatic ties with North Korea, as the Trump administration attempts to tighten the economic screws on Kim Jong Un's regime. "He received that well," Pence said.
Journalists traveling with Pence got into a dust-up with Egyptian authorities, who refused at first to allow the press corps to cover the beginning of his meeting with Sisi, as is customary.
After several minutes in which Egyptian officials prevented journalists from leaving the press bus parked on the palace grounds, they relented and brought the journalists inside -- but wouldn't allow them to enter the meeting.
Nearly 90 minutes later, the journalists were permitted into the meeting to hear statements from both men -- a concession officials later said had required Pence's personal intervention with the Egyptian leader.
Pence said he also prodded El-Sisi to reform Egyptian policies toward non-government organizations and to release two U.S. citizens imprisoned in Egypt, Ahmed Etiwy and Moustafa Kassem, and allow them to return to the U.S. Pence told U.S. journalists before leaving Egypt that El-Sisi promised he would give the matter "very serious attention."
The two Americans had not been released as of late Saturday. 
Before it's here, it's on the Bloomberg Terminal.
LEARN MORE