politics
Merkel's Coalition Plans Face Make-or-Break Vote
By and
Delegates decide Sunday if government talks will go forward

Rejection could mean Merkel minority rule or new elections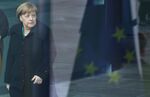 German Social Democratic Party members made their pitches for and against resuming a coalition with Chancellor Angela Merkel ahead of a crunch vote that will determine the country's government make-up and political stability.
Party leader Martin Schulz, who led the SPD to its worst result of the postwar period in September's inconclusive elections, made the case for another so-called grand coalition with Merkel's bloc "for the people of Germany and Europe."
Kevin Kuehnert, leader of the party's youth wing, reiterated his rejection of governing with Merkel in favor of a period of renewal in opposition, arguing that such a course "can be the beginning of a new story that we write together." 

Speakers from both sides of the debate are addressing an SPD convention in Bonn on Sunday, underscoring the extent of the split in Germany's oldest political party over its future direction. Some 600 delegates from across Germany are set to vote from about 4 p.m. local time on whether to enter formal coalition negotiations with Merkel's Christian Democratic-led bloc or to walk away and go into opposition.
Euro Braced
Schulz's relative lack of applause following an hour-long speech was a subject of debate at the conference, with some present interpreting it as a sign that the leadership's argument in favor of seizing the chance of government may be failing to convince the membership. Kurt Beck, a former SPD chairman, said last week that he expects the plan to pass with about 60 percent of the vote.
"The party is very divided, like many Social Democratic parties across Europe," Guntram Wolff, director of the Brussels-based Bruegel research group, said in an interview, predicting a "very tight" vote. Berenberg economist Holger Schmieding said there's a "better than even chance" of SPD backing.
With the vote's outcome far from clear, investors are bracing for the possibility of a shock that could hurt the euro. A "No" vote would rob Merkel of coalition options and force her to choose between a minority government or a repeat election, further clouding the start of her fourth term and pushing Europe's biggest economy ever more into political uncertainty.

On the table is a 28-page policy outline agreed by the two sides in a marathon session on Jan. 12. SPD delegates must decide if it's a sufficient basis on which to forge a common platform for government, even though many of them blame the party's role as Merkel's junior partner over the past four years for its electoral decline.
A vote in favor would signal that Germany's political center is holding and point toward an exit from a deadlock that's held up policy making in Europe. Merkel is already returning to the world stage, visiting French President Emmanuel Macron last Friday and scheduling her first speech in three years to the World Economic Forum in Davos, Switzerland, for Wednesday.
"We're waiting for the SPD conference and we're hoping to start talks on forming a coalition and a stable government,'' Merkel told reporters in Sofia during a visit to Bulgaria on Saturday.
Merkel and the Social Democrats have governed together for eight of her 12 years in office, united by a pro-European stance that's reflected in the preliminary deal. Even if efforts to set up a formal coalition pact fail and lawmakers elect Merkel chancellor of a minority government, she could broadly count on SPD and Green party support for her European agenda.
End of Era
It's Merkel's second attempt to form a government after her party won an inconclusive federal election in September. Even if the SPD vote goes her way, the party would still put any coalition pact to a ballot by its more than 400,000 members.
Merkel, 63, remains popular with the voting public, with 54 percent in favor of her serving another term, according to a Jan. 16-18 FG Wahlen poll published Friday. Yet surveys also suggest her struggle to build a government and the prospect of another grand coalition of the two biggest parties is diminishing her standing.
"The message of this government would not be one of a new beginning, but one of pragmatism and responsibility," said Josef Janning, senior policy fellow at the European Council on Foreign Relations. "This grand coalition will symbolize the beginning of the end of one era, rather than the launch of a new one."
— With assistance by Samuel Dodge, and Helene Fouquet
Before it's here, it's on the Bloomberg Terminal.
LEARN MORE