Macron Raises Hope for Britain's Post-Brexit EU Market Access
By
In BBC interview, French leader says U.K. must abide by rules

Macron says he doesn't want to 'unplug' U.K. banks from the EU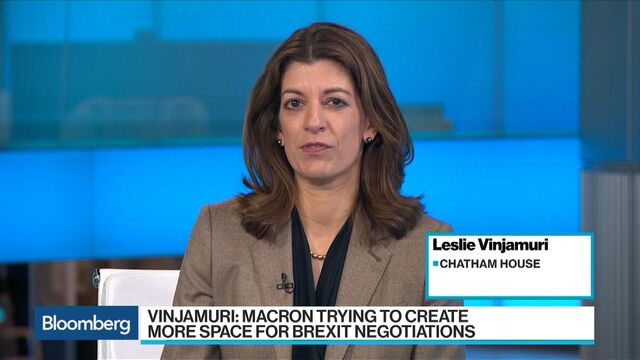 French President Emmanuel Macron may have raised hopes for Britain's post-Brexit relations with the European Union, saying the U.K. will likely end up with something "between full access and a trade agreement."
"To get full access you need to contribute to the budget and agree to the four freedoms and to the jurisdiction," Macron said in excerpts of an interview, in English, with the BBC recorded Thursday during his visit to Britain for broadcast on Sunday. "As soon as you decide not to join these preconditions, it's not a full access, so it's something perhaps between full access and a trade agreement."
Macron said access for financial-service companies also required accepting the obligations, but said he didn't want to "unplug" London's financial sector from the EU. "It doesn't make sense, because it's part of the whole financing of our European Union," according to comments posted on the BBC website.
Macron met British Prime Minister Theresa May at the Sandhurst military academy near London on Thursday to discuss bilateral issues unrelated to the U.K. exit from the EU such as military, security and cultural cooperation. But Macron used a press conference to insist that continued full access to the EU's single market required accepting the bloc's rules.
"What's important is not to make people believe it's possible," Macron said on the BBC, before the interviewer interrupted and said "to have your cake and eat it too?" Macron nodded and said "yes."
EU chief Brexit negotiator Michel Barnier has insisted the U.K. can hope only for a free-trade pact similar to the one the EU has with Canada, rather than an arrangement that maintains stronger ties. Brexit Secretary David Davis has said he wants a trade deal that would include the best parts of the bloc's agreements with Japan, Canada and South Korea, along with financial services, which are not included in those trade deals.

Before it's here, it's on the Bloomberg Terminal.
LEARN MORE