politics
Pressure Mounts on Zuma to Quit as South African President
By and
South African ruling party hasn't decided when Zuma must leave

Leadership may change as soon as next month, two people said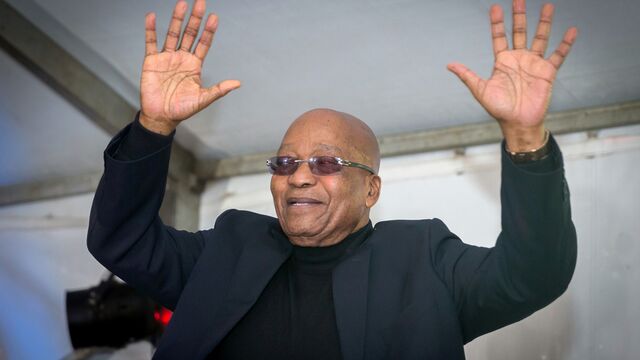 South Africa's ruling party is intensifying pressure on President Jacob Zuma to step down and allow his deputy, Cyril Ramaphosa, to accelerate his efforts to stamp out corruption and restore investor confidence in the economy.
The African National Congress's top leadership decided at a meeting late Friday that Zuma, 75, must leave office but didn't set a deadline for his exit, according to six senior party officials who spoke on condition of anonymity. Two National Executive Committee members said Zuma may be gone in two weeks so Ramaphosa can deliver the annual state-of the-nation address on Feb. 8.
Zuma's departure would enable Ramaphosa, 65, to take over as the nation's president and meet his pledge to rebuild an economy that entered its second recession in almost a decade in the first quarter of 2017 and has struggled to mount a strong recovery. He's also vowed to fight the graft that's become synonymous with the Zuma era and restore public confidence in the party that Nelson Mandela led to power in 1994.
Rand Boost
Ramaphosa, a lawyer and one of the wealthiest black South Africans, is widely expected to adopt more business-friendly policies and his election as ANC leader helped boost the rand 10 percent last month. He's leading South Africa's delegation to the World Economic Forum gathering in Davos next week.
The ANC leadership wants Zuma out as president before the start of campaigning for next year's general elections, the officials said. Under Zuma's rule, the ANC suffered its worst-ever electoral performance in municipal elections in August 2016 when it lost control of Johannesburg, the economic hub, and Pretoria, the capital.
"The NEC agreed that the ANC must act decisively and with determination to rebuild the bond of trust between our people and the movement, restore the dignity of our movement, and reclaim the moral legitimacy of our movement," the party said in a statement Saturday.
Ramaphosa's Control
Ramaphosa and the five other newly elected top leaders of the party will manage the transition, according to the officials.
The party officials "will continue their engagement with President Jacob Zuma to ensure effective coordination between the ANC and the government," the ANC said in the statement, without confirming Zuma will step down.
ANC spokesman Zizi Kodwa didn't respond to requests for comment.
There was further evidence of Ramaphosa cementing control over the ANC at Friday's meeting, with his allies securing most seats on the party 26-member National Working Committee that oversees its running on a day-to-day basis.
The NEC also decided to suspend the ANC's provincial executive committees in the KwaZulu-Natal and Free State provinces, which were closely aligned to Zuma and were declared by the courts to have not been properly elected. Interim structures will run the party there until a new vote can be held.
Growing Power
In a demonstration of Ramaphosa's growing power, his office and the Ministry of Public Enterprises announced sweeping changes to the board and management of struggling state power utility Eskom Holdings SOC Ltd., including the appointment of Jabu Mabuza as chairman. Mabuza also holds the same position at telecommunications company Telkom SA SOC, Ltd. and has been one of Zuma's most outspoken critics.
Members of the Gupta family, who are Zuma's friends and in business with one of his sons, have been implicated in alleged looting of billions of rand from the utility in reports by the nation's graft ombudsman and a group of top academics. Zuma and the Guptas deny wrongdoing.
"We are determined to address the damage that has been done to this institution and place it on a new path of efficiency and integrity," Ramaphosa said in a statement. Eskom's new board was instructed to immediately remove all executives who are facing allegations of serious corruption and other acts of impropriety.
Zuma's second and final term was due to end around mid-2019. He survived two previous bids to topple him at NEC since November 2016, but the balance of power in the panel shifted after the elective conference in December.
— With assistance by Michael Cohen
(
Updates with management changes at state power utility in first paragraph below Growing Power subheadline.
)
Before it's here, it's on the Bloomberg Terminal.
LEARN MORE