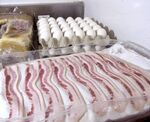 Shares of Hormel Foods Corp., one of the industry's few bright spots last year, are fading in 2018 as pork and turkey prices eat into margins. But that's why it's a perfect time for Hormel to serve up some more of what investors crave: deals. 
Hormel has made a number of smart acquisitions in recent years, including Applegate Farms, a fast-growing organic-meats brand, and Skippy peanut butter, part of an expansion into non-meat protein to reduce exposure to volatile commodity prices. Its latest -- and biggest -- transaction was in October when it paid $850 million for Columbus Manufacturing, a producer of salami and deli meat.
But since that month, industry pork and turkey profits have fallen 20 percent to 30 percent, according to a report this week by Morgan Stanley analysts. Should that trend persist, Hormel's own margins and premium valuation will continue to erode. While the stock looked on its way out of a slump late last year, it's since headed back downhill as forecasts call for another dip in operating profit this quarter. (Hormel is scheduled to report first-quarter results Feb. 22 during the industry's annual CAGNY conference.)
The company is still valued at 20 times future 12-month earnings, which is 37 percent higher than the average for its meat-producing peers. Staying up there won't be easy, but there is one obvious lever CEO James Snee can pull. With more cash on hand than debt, Hormel has a deal-ready balance sheet if it can just find some more worthy candidates. Piper Jaffray Cos.' Michael Lavery estimates that Hormel could add up to $4 billion of debt for acquisitions while keeping net leverage at a manageable three times Ebitda.
Surely in the meat space sellers' expectations have come down in recent months as they grapple with the same challenges as Hormel, making it a good time to strike. That said, Hormel needn't limit itself when fresher foods broadly are the draw. Snee has said his M&A goals are to be more global, multi-cultural, healthy, holistic and on-the-go -- which, of course, is true of every packaged-food manufacturer scrambling to reshape its brand portfolio these days and catch up with consumer trends. But Hormel is in a better position than most of them. Just look at Campbell Soup Co. and Hershey Co., which both recently struck pricey deals out of seeming desperation to get away from declining categories. Hormel is already an anchor of the refrigerated aisles, setting it up well for the longer term.
Hormel needs to work on stabilizing margins and deliver more deals in the meantime that work toward these long-term growth plans. But Snee can afford to be both picky and ambitious with his next deal. 
Before it's here, it's on the Bloomberg Terminal.
LEARN MORE