Coal Plant at Center of Failed Trump Plan Closes After Fire
By
Bruce Mansfield complex in Pennsylvania damaged by the blaze

Plant would've benefited from Trump plan to aid coal units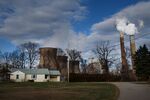 Bruce Mansfield, the struggling coal-fired power plant at the center of President Donald Trump's failed bid to bail out the industry, has been forced shut by a fire.
A Jan. 10 blaze damaged the Pennsylvania complex's pollution-control scrubber, stack and other equipment, owner FirstEnergy Corp. said in a regulatory filing late Friday. It broke out after workers who were shutting one of three generating units for maintenance ran into equipment trouble. That forced the unplanned shutdown of a second unit, the company said.
The fire is just the latest setback to plague the 40-year-old plant that's been battered by competition from cheap natural gas flowing out of nearby shale formations. The complex is part of a collection of plants that FirstEnergy may be looking to unload as part of a potential bankruptcy of its FirstEnergy Solutions unit.
The biggest champion of Bruce Mansfield has been Robert E. Murray, chief executive officer of Murray Energy Corp. He's a prime supplier for the complex and had lobbied the Trump administration for policies that would help save it. Energy Secretary Rick Perry proposed a plan late last year that would've aided the plant by paying coal generators more for stockpiling fuel on-site -- a capability that, he said, makes grids more "resilient."
The Federal Energy Regulatory Commission rejected Perry's idea earlier this month after it drew widespread criticism from gas producers, power-grid operators and others who argued it would undermine competition.
Read More: Trump Bailout of Coal Plant in Gas Country Has Locals Shrugging
FirstEnergy spokesman Stephanie Walton said Friday that the third generating unit at Bruce Mansfield had been offline for maintenance during the fire and wasn't damaged. The company is in the process of restarting that 830-megawatt unit, she said.  
Workers at Bruce Mansfield have been expressing concerns about conditions there. In August, a gas leak at the plant killed two contractors and injured others. In November, one worker, Herman Marshman, likened operating the plant to driving "a 40-year-old car, and you only do what you need to get to the next stop light."
Before it's here, it's on the Bloomberg Terminal.
LEARN MORE