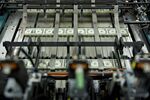 Why is the dollar so weak? That question pops up a lot in Asia these days, though not necessarily as an expression of worry. If anything, there's palpable relief that rising U.S. interest rates have so far failed to cause a shortage of greenbacks.
Yes, policymakers in Seoul are making some noise about the exchange rate. But that's because the U.S. currency isn't weakening uniformly. The Japanese yen has risen only 3 percent against the dollar over the past year, compared with a 9 percent gain for the Korean won. So one yen now buys fewer than 10 won, compared with 15 in 2012. The yen-won tussle is what really matters for South Korean auto and electronics exports. Fighting the trade disadvantage means resisting calls to raise interest rates, which is just what the Bank of Korea did Thursday.
Elsewhere, standing pat is a bit of a gamble. Bank Indonesia, too, stayed on hold Thursday even though, as Mark Cranfield of Bloomberg News noted, the extra yield offered by five-year rupiah bonds over dollar bonds of the same maturity is now the lowest in 15 years. That opens the country to the risk of capital flight and a disorderly drop in the currency. Yet a repeat of the 2013 "taper tantrum" is unlikely for a simple reason: this time around, there's no dollar squeeze.
Suppose an Indonesian or Malaysian bank was looking to raise dollar funding for a year. It could always borrow some rupiah or ringgit, buy spot dollars with the money and sell them in the forward market to lock in the price. The cost of raising dollars through this little maneuver is 2.4 percent in Malaysia and 2.5 percent in Indonesia. Both rates are within half a percentage point of dollar Libor. Put another way: there's no real deficit of dollars to grease the Asian supply chain. If something is so readily available, why would it cost more?
One way this could reverse is if there's an accident, or the fear of one.
Researchers at the Bank for International Settlements measure this fear by counting the cost of borrowing a unit of each G-10 currency, then converting the sum into dollars. The gauge shows just how eager or reluctant Wall Street banks are to use their balance sheets to make dollar funding available globally. Their enthusiasm held at a dangerously low level throughout 2016, when the big worry was the risk of a hard lending and credit meltdown in China. Consequently, the U.S. currency held strong.
As China-related concerns eased in 2017, the dollar fell on a trade-weighted basis.
The current reading on this fear indicator is benign, for good reason. Not only did China on Thursday report 6.9 percent GDP expansion in 2017 -- the first acceleration since 2010 -- it did so after restricting money supply to an 8.2 percent gain during the year, the slowest on record.
As long as Beijing is seen to be successfully pulling off the tough combination of growth with deleveraging, there's no reason to expect a dollar shortage in Asia.
Before it's here, it's on the Bloomberg Terminal.
LEARN MORE