politics
Zimbabwean Lawmakers Expelled After Being Axed by Ruling Party
By and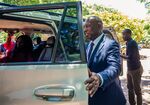 Zimbabwe's ruling African National Union-Patriotic Front asked parliament to expel 10 of its legislators who'd been ejected from the party's ranks in a shakeup that followed the removal of Robert Mugabe as its leader.
Those to be fired because they no longer represented their party included former foreign affairs minister Walter Mzembi, former energy minister Samuel Undenge and former sports minister Makhosini Mhlongwane.
All 10 lawmakers were members of the so-called Generation-40 faction of Zanu-PF, which wanted Mugabe to be succeeded as president by his wife, Grace. The post went to Emmerson Mnangagwa, who had the backing of the military, after Mugabe was forced to step down in November under threat of impeachment by his own party.
Before it's here, it's on the Bloomberg Terminal.
LEARN MORE