business
Your Evening Briefing
By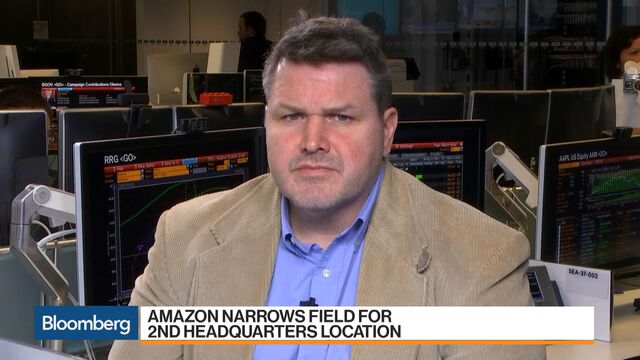 Want to receive this post in your inbox every afternoon? Sign up here.
With only one day left, U.S. lawmakers are having a tough time finding a way to keep the federal government open. Republicans trying to shame Democrats and woo their own found themselves on the business end of the president's Twitter feed. In the Senate, a tough landscape has prompted Republicans to propose a spending bill that lasts just a few days. So even if Congress meets tomorrow's deadline, we may be back here again next week.
Amazon has 20 cities in mind for its second HQ. Amazon said it narrowed the field of cities for its proposed new headquarters to 20, with New York, Boston, Chicago, Miami and Toronto among the survivors. In September, the Seattle-based behemoth put out a casting call for the project, expected to cost more than $5 billion and create 50,000 jobs over the next 10 to 15 years. While today's news gave hope to 20 cities, more than 200 were sent home with a copy of the home game. Thanks for playing.
How did it all go wrong for Uber? After years of negative revelations—spying on passengers, dubious driverless-car experiments, CEO Travis Kalanick bragging about sexual conquests—the public was already inclined to believe the worst. Then came the video. Kalanick has since embarked on a yearlong starring role as the villain who gets his comeuppance, in a story that's never been told until now.
U.S. filings for unemployment benefits plummeted to their lowest level in almost 45 years, the government said Thursday. Companies are holding on to workers while struggling to find new ones, particularly in manufacturing and construction. The figures suggest the unemployment rate of 4.1 percent, already the lowest since 2000, could be poised to decline further.
What does it mean when America's capital of the rich has to slash prices to move luxury homes? Denizens of Greenwich, Connecticut may be asking themselves that question after a bloody fourth quarter saw an average discount of 13.5 percent on asking prices for the mansions of investors, bankers, and CEOs. It hasn't been this bad since the financial collapse back in 2008.
It's coming down to the wire with a government shutdown set for Friday night if Congress can't get its act together. President Donald Trump hasn't been helping, throwing a grenade into Republican strategy to force the hand of Democrats by tying children's health insurance to a stopgap measure. Trump backtracked, and the House is still trying to hammer out a bill. Meanwhile, several Senate Republicans said a measure funding the government for just a few days is under discussion in that chamber. Stay tuned.
Trump Chief of Staff John Kelly found himself in his boss's bad books Thursday. The president said on Twitter that his position on building a wall along the border between the U.S. and Mexico "has never changed or evolved," contradicting remarks by Kelly to the Congressional Hispanic Caucus that Trump's promises on immigration were "not fully informed." Trump, in his Twitter post, said the wall will go up as planned, and Mexico will pay for it.
Your executive education experience should match your goals. That's why Harvard Business School Certificate of Management Excellence lets you choose the specific programs — across leadership, negotiation, innovation, and strategy — that offer the unique skills and insights you need to advance in your career.
The best new cars at the 2018 Detroit Auto Show. This was the year automakers went big in Detroit—and were told to "adapt or die." After trying to convince the world they can beat Silicon Valley to electric cars and autonomous driving, they are crowing once again about what they do best: trucks. Ford, GM, and Fiat Chrysler each pulled the cover off a new pickup, while BMW, Lamborghini, and Mercedes rolled out brand-new SUVs. "You can call 2018 the death of the car," said one industry consultant.
Before it's here, it's on the Bloomberg Terminal.
LEARN MORE