politics
Putin Sets Major Address for Feb. 6, Officials Say
By , , and
President seen outlining economic-policy goals for next term

Kremlin weighs hikes to social spending amid slow recovery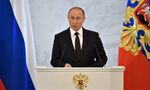 Russian President Vladimir Putin is scheduled to make his annual state-of-the-nation speech to the legislature on Feb. 6, laying out plans for the fourth term he's expected to win easily in March, according to two officials familiar with the preparations.
Though Putin announced his candidacy in December and staffers have been working on his program for months, he so far hasn't presented details of his vision for what its likely to be his final term in office. In recent days, officials have provided some hints of a shift in budget policy to boost spending on health, education and infrastructure that would be the biggest increase in such outlays since his last campaign in 2012.
Putin made his last such speech in December 2016, but delayed the current one because of the campaign, one of the people said.
In his address next month, Putin is expected to avoid mentioning unpopular steps that his advisers are discussing now, which include raising income taxes and the retirement age and eliminating tax preferences, another person familiar with the preparations said.
Among the other moves under discussion is the creation a new agency based in Moscow to ensure the spending increases are implemented effectively on the local level after regional governments failed to follow through on similar steps promised in 2012. Other changes to the bureaucracy -- part of the Kremlin's continuing quest to improve efficiency -- are also possible, two people familiar with the discussions said. 
Putin's spokesman Dmitry Peskov declined to comment on the date, saying that it would be announced later.
Putin faces little challenge as he looks to win another six-year term in the March 18 election. But incomes have been slow to recover as Russia stumbles out of the longest recession since he first took power almost two decades ago.
Before it's here, it's on the Bloomberg Terminal.
LEARN MORE