markets
Government Shutting Down? Equity Markets Say, `Yeah, Whatever'
By and
Stocks at record highs, rising yields show risk-off stance

Cried-wolf aspect, low market stakes give investors solace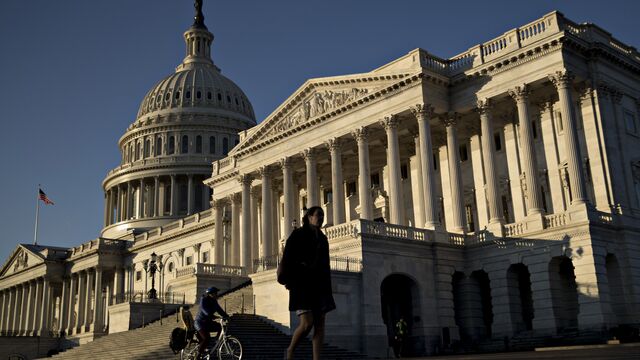 Shutdown? What shutdown?
As Washington lurches toward another showdown over funding the U.S. government, financial markets remain focused on all the benefits that the recently-passed tax overhaul bill will have on corporate America's profitability amid a backdrop of synchronized global economic growth.
And why wouldn't they? This is the fifth time in the past nine months that Congress has scrambled to keep the government running, each time reaching a stop-gap agreement.

"It seems like it's more about the drama leading up to it, and with the continuing resolution thing they always seem to have some sort of rabbit that they pull out of their hat right at the very last minute," said Jamie Cox, a managing partner for Harris Financial Group, said by phone from Richmond, Virginia.
U.S. stocks were little changed near all-time highs Thursday, while 10-year Treasury yields held near the highest levels touched last year in a sign that investors are pushing into risk assets.
The continued market calm reflects how much the past decade has desensitized market participants to drama in Washington. Periods of intense political posturing over high-profile issues -- the debt ceiling, the so-called fiscal cliff, and the business of funding the government -- have had a history of giving way to 11th-hour agreements.
"While the Talking Heads are focused on the 'Shutdown,' we are seeing little angst as smoke signals from D.C. show a chance of a can kick tomorrow," Dave Lutz, head of ETFs at JonesTrading Institutional Services, wrote in a note to clients on Thursday.
Low Stakes
Instead, market participants have been laser-focused on how the Republican tax reform changes the earnings landscape for American companies. Based on early results from the largest lenders, the lower corporate rate will turbocharge profits this year. Analysts, in turn, have been ratcheting up their estimates over the past four weeks at the fastest rate on record, based on Bloomberg data going back to 2012. 
Investors can take further comfort: the past five years show no connection between increasing fear of a potential government shutdown, as inferred by the amount of news coverage, and a retreat in the S&P 500 Index.
Aside from the cried-wolf aspects of the current showdown, investors can also take solace from prior funding flubs that show the market stakes aren't as high as the political ones. When the government had a temporary shutdown in October 2013, the S&P 500 Index slumped 2 percent in the immediate aftermath before reversing to rise 1.8 percent by the time a stop-gap bill was signed. Bonds likewise shrugged off the issue, with 10-year yields adding just five basis points during that span.
Goldman Warning
These meager market impacts are indicative of the limited effect of a shutdown on the economy, notes Neil Dutta, head of U.S. economics at Renaissance Macro Research.
"Many of the employees in the nonessential departments are put on furlough and then paid retroactively," he said. "In 2013, we saw a 16 day shutdown and fourth-quarter GDP was 4 percent. Whatever hit there is, gets made up quickly thereafter."
Goldman Sachs Group Inc., however, cautions that a further temporary delay could kick risk assets in the rear end next month. By then, the list of items to bicker over will have snowballed to include the budget, immigration reform, more money for disaster relief as well as health care for children.
"The risks to the economy and financial markets are somewhat higher in February than they are this month, due to the upcoming debt limit deadline," wrote economist Alec Phillips. "Markets have tended to shrug off shutdowns as long as the debt limit is not involved."
— With assistance by Sarah Ponczek, and Joanna Ossinger
Before it's here, it's on the Bloomberg Terminal.
LEARN MORE