Global Bond Gloom Makes Emerging-Market Investors Selective
By , , and
DuPont is betting on Mexican peso and Eastern European debt

Pimco likes countries from Argentina to Mongolia and Ukraine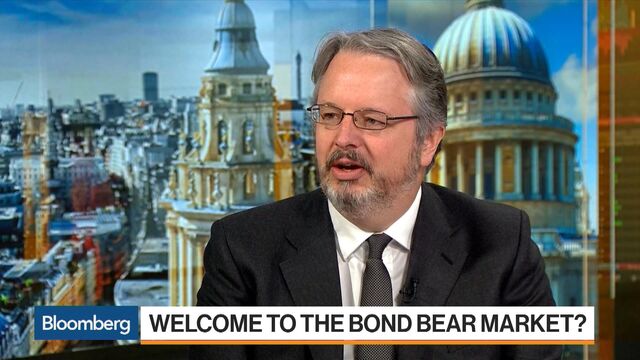 The likelihood that emerging-market debt won't deliver the same returns this year as in 2017 has gotten some of the biggest players repeating a similar mantra: be more selective.
Pacific Investment Management Co. likes Argentina, Brazil and India. DuPont Capital sees Eastern European debt outperforming. Schroders Plc and GAM UK Ltd. are both bullish on local-currency notes.
Emerging-market local-currency government bonds rose 14 percent last year, the strongest performance since 2012, while their hard-currency counterparts gained more than 8 percent.
"We view EM as attractive on a relative basis compared to other fixed-income sectors," said Yacov Arnopolin, a Pimco money manager who helps oversee $3.3 billion of emerging-market bonds. But after two years of bumper returns, "investors should temper their expectations for the upside from EM fixed income in the near term."
The spread of emerging-market bonds as measured by the J.P. Morgan EMBI Global Diversified Sovereign index narrowed by 2 basis points to 267.7 on Thursday. The MSCI index for emerging-market currencies rose 0.2 percent as of 12:27 p.m. in New York.
Here's a look at what investors are betting on this year:
Big Risk, Big Return
DuPont Capital money manager Yong Zhu, who helps manage $11.4 billion, says that he finds few bonds from developing nations attractive now.
"Some bonds are cheap with the potential for big returns, such as Venezuela and the Mexican peso, yet most of them have substantial risks," Zhu said.
He's betting on Mexico's local-currency debt, with the understanding that the country's presidential election in July and talks over the North American Free Trade Agreement could create volatility. He's also calling for outsized returns from eastern Europe, and he's turned more favorable on Russian ruble debt.
On the hard-currency side, Zhu prefers companies tied to Brazil's and Mexico's oil industries, and sees Venezuela offering potentially big returns over the longer term if a new government comes in and reaches a restructuring agreement.
"For dollar sovereign and corporate bonds, the chance to repeat last year's returns is very, very small," Zhu said.
Protectionism and the IMF
Arnopolin expects that higher oil prices will help commodity-producing countries such as Saudi Arabia shrink deficits, and also sees promise in countries isolated from any U.S. efforts to reduce imports, including Argentina, Brazil and India.
"Countries demonstrating solid IMF engagement are also a favorite," Arnopolin said, citing Egypt, Mongolia, and Ukraine. "And names with an improving fundamental backdrop and strong technicals like Macedonia should continue to stay bid."
The main risk this year is that tighter global monetary policy could send investors fleeing to developed markets, Arnopolin said.
Local Currency Run
Jim Barrineau, the co-head of emerging-market debt at Schroders, prefers staying local.
"We expect local currency to do better than dollar EMD, but the results are likely to be close since central banks in EM are by and large done with rate cutting cycles," Barrineau, who helps manage $3 billion, said in an interview.
The biggest gains will be in riskier assets, according to Barrineau.
Hard Currency Risk
For Paul McNamara, a money manager who oversees $10.9 billion at GAM UK, hard-currency emerging-market bonds look overvalued.
"Because it didn't have the selloff that local currency did in 2014 and 2015, it looks fairly rich," McNamara said.
He's betting on a good year for local-currency bonds.
If you don't count China, emerging countries are running a trade surplus of about $4 billion to $5 billion a month, McNamara said. "Historically, if you put money into EM currencies in that situation you will make decent money," he said.
Before it's here, it's on the Bloomberg Terminal.
LEARN MORE