politics
Fusion GPS Head Said Trump's Financial Woes Spurred Questions
By
Interview with Glenn Simpson released by House Intelligence

Issue of 'how he was financing various things': Simpson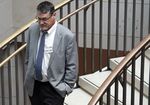 The founder of Fusion GPS, the opposition research firm that produced an unsubstantiated dossier about Donald Trump, told a House panel that Trump's financial practices raised allegations of possible business ties to Russian and other organized crime figures.
According to a transcript released Thursday by the House Intelligence Committee of its closed-door November interview, Glenn Simpson said he became intrigued by Trump's past difficulties obtaining loans from banks while looking for negative information during the president's 2016 campaign.
"We were always trying to figure out where -- how he was financing various things," Simpson told the committee. By 2004, Simpson added, "Donald Trump was not able to get bank credit and and if you're a real-estate developer and you can't get bank loans, you know, you've got a problem."
But Simpson didn't provide concrete evidence during the interview to back up the allegations of links with organized crime, noting he lacked the subpoena power the committee has to dig deeper.
The dossier, which contains some salacious allegations about Trump, has been a subject of dispute since it emerged before his inauguration. Republicans and Democrats have tangled in recent weeks over the origins of the dossier, which was funded in part by Democrats including Hillary Clinton's campaign, and how the FBI and other agencies may have used the material in their investigations of Russian meddling in the presidential campaign and possible collusion with those around Trump.
A QuickTake Q&A: Your Guide to Understanding the Trump-Russia Saga
In the course of putting together the dossier, authored by former British spy Christopher Steele, Simpson said in the November testimony that his team concluded that a financially hard-pressed Trump turned wherever he could to get financing. 
"We developed a lot of additional information" suggesting that a company associated with Trump was connected to "illicit financial business activity and had organized crime connections," Simpson said.
Simpson's testimony included the names of contacts he called suspicious and business dealings he suggested the committee pursue.
"I'm an ex-journalist, so I'm not really in a position to prove that anyone's engaged in a crime," the former Wall Street Journal reporter said. "I mean, you know, sometimes you do find proof of criminal activity in an investigation, but more often than not you find things that are suggestive or raise questions."
'Discredited and Phony'
Trump has dismissed the dossier "discredited and phony" and "disproven and paid for by Democrats."
Simpson's testimony before the Senate Judiciary Committee in August was released earlier this month.
"Those transcripts reveal serious allegations that the Trump Organization may have engaged in money laundering with Russian nationals," Adam Schiff of California, the top Democrat on the House Intelligence Committee, said in a statement Thursday. "Thus far, committee Republicans have refused to look into this key area, and we hope the release of this transcript will reinforce the importance of these critical questions to our investigation."
Republican members of the committee have dismissed Simpson's testimony as a rambling collection of conspiracy theories. Spokesmen for Republican Devin Nunes of California, the committee's chairman, and Michael Conaway of Texas, the Republican leading its Russia investigation, had no immediate comment on release of the transcript. The panel spent more than six hours interviewing Simpson on Nov. 14
Simpson had urged that both of his congressional interviews be made public. The House panel's decision to release its version was made in a closed-door vote Thursday morning.  
— With assistance by Chris Strohm
Before it's here, it's on the Bloomberg Terminal.
LEARN MORE