business
France Wants Joint Banking-Union Proposals With Germany in March
By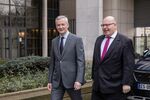 France and Germany aim to put forward joint proposals in March for completing Europe's union on bank regulation and capital markets, as well as a common corporate tax base, French Finance Minister Bruno Le Maire said Thursday.
The idea would then be to expand the agreement to all euro-area states by June, he added.
"The Franco-German couple must be the motor but the project is open to others," Le Maire said at a press conference with German counterpart Peter Altmaier. "It's a timetable that can be counted in weeks. The day there will be a Franco-German position on these three subjects will inspire others."
The remarks come as Germany's Social Democratic Party prepares to vote on coalition talks with Chancellor Angela Merkel on joining her government for another term. Merkel, who has broadly signaled support for French President Emmanuel Macron's reform agenda, agreed with the SPD leadership on a policy blueprint for a renewed alliance last week.
Asked what France intends to do to build German confidence, Le Maire said "we're ready to go further in providing guarantees for reducing risks relating to non-performing loans, for example."
Altmaier praised the French government's efforts to cut its budget deficit and reform its economy. The acting German finance minister also said that Europe had to react to U.S. plans to overhaul its tax system, noting that companies are likely to undertake a massive shift in funds from abroad as a result.
Before it's here, it's on the Bloomberg Terminal.
LEARN MORE