markets
Five Things You Need to Know to Start Your Day
Get caught up on what's moving markets in Asia.
By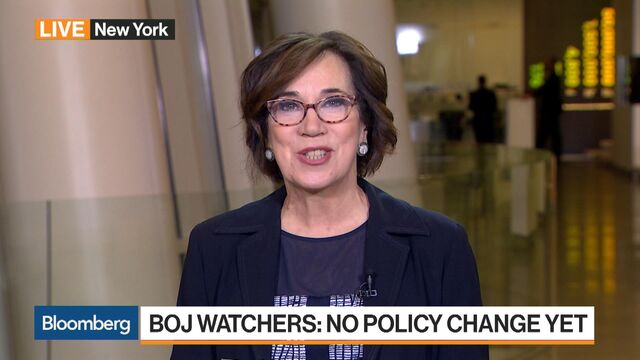 Want to receive this post in your inbox every morning? Sign up here.
BOJ watchers don't see policy change any time soon, State Street is bullish on Asian local currency bonds, and U.S. legislators work to avoid a shutdown. Here are some of the things people in markets are talking about.
BOJ Seen Steady
Economists who follow the Bank of Japan aren't buying the idea that the central bank is near the point where it will begin to normalize its ultra-loose monetary policy. Slightly more than half of those surveyed by Bloomberg this week said they saw no chance of any change to BOJ policy this year. With the vast majority saying Governor Haruhiko Kuroda will be reappointed to another term, continuity is expected, at least through the first half of 2018. If the BOJ does tighten policy this year, it's most likely to do it in September or October, according to economists. None envisage any adjustment at the next policy gathering Jan. 22-23.
Asia Local Bonds to Rally
The rally in Asia's local-currency bonds still has juice and the strength in the region's currencies will support further gains by countering the impact of tighter monetary policies. That's the message from Ng Kheng Siang, Singapore-based Asia Pacific head of fixed income at State Street Global Advisors. The firm, which has $2.7 trillion in assets, prefers bonds of Malaysia, Thailand and Indonesia, while China, with its deleveraging efforts and the potential to be included in a major bond index, is a longer term play.
Sanctions Violations
At least six Chinese-owned or operated cargo ships violated UN sanctions against North Korea, the Wall Street Journal reported, citing satellite photographs and intelligence gathered by U.S. officials that it reviewed. Ships entered ports in North Korea and transported what U.S. officials said was illicit cargo to Russia and Vietnam or made ship-to-ship transfers at sea. U.S. evidence shows ships made extensive maneuvers designed to disguise the violations. A WSJ review of corporate records and shipping databases showed the vessels are owned or managed by Chinese companies registered in Hong Hong and have shareholders who are Chinese nationals. China's foreign ministry said in a statement to the WSJ that it abides fully with Security Council resolutions and deals with violations in accordance with the law.
New Credit in China
China is squeezing more economic growth out of new credit, signaling that the nation is shedding some of the wasteful investment of the past. The amount of new credit needed to generate each dollar of economic output fell to about 28 cents in 2017 from slightly more than 30 cents a year earlier, according to estimates by Bloomberg Economics updated following release of full-year 2017 gross domestic product data Thursday. That backs calls made by JPMorgan saying that inefficient capital allocation has started to "bottom" while Nomura says China's "credit cycle has peaked." Meanwhile, the big surprise in China is how regularly the data surprises.
U.S. Government Shutdown Looms
The U.S. Congress is working to avoid a government shutdown. Republicans in the House appear to have the votes for a stopgap spending bill, while the Senate may be a bit tougher. Here's a guide to what shuts down during a U.S. shutdown.
What we've been reading
This is what caught our eye over the last 24 hours.
— With assistance by James Mayger, Masahiro Hidaka, and Lilian Karunungan
Before it's here, it's on the Bloomberg Terminal.
LEARN MORE