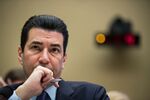 C,R, and L are the three most dreaded letters in biotech -- shorthand for complete response letters, which the FDA sends when it rejects a drug application. They can delay or derail a drug's path to market. 
The FDA sends these letters privately, and companies often obfuscate or spin their contents to the detriment of investors and the public.
At his April confirmation hearing, FDA commissioner Scott Gottlieb appeared open to the idea of making partially redacted CRLs public. But in a speech on January 16 he suggested releasing all such letters would be "administratively burdensome." The FDA is now trying to determine if there is a subset of letters worth redacting and releasing because they have significant public health value. 
But if the FDA drastically narrows the scope of this effort, then it will be making a mistake. 
Gottlieb later took to Twitter to defend the apparent shift in his thinking. He's correct that it would likely be tricky and expensive to release all CRLs and that his agency isn't in the business of serving investors. As he put it, "we are not the SEC." 
But there's a middle ground between opening an EDGAR-style database containing every unredacted letter and only releasing a tiny and heavily edited subset. And investors wouldn't be the only beneficiaries of shining more light on these letters -- it will serve public health, too. Opacity only helps companies that want to keep the public in the dark, and the FDA shouldn't have any interest in maintaining that status quo.
A study by FDA affiliated investigators found a staggering degree of omission in company disclosures of CRLs.  
Gottlieb said in his speech that information in CRLs about drug safety and efficacy could help consumers, physicians, and researchers. Making it public could help avert futile or poorly designed trials or lead to safer use of similar on-market treatments. Interpreted broadly, that's a case for releasing just about any CRL that results from safety or efficacy issues.
In defense of limited release, Gottlieb noted many CRLs have no information directly relevant to clinical practice because they stem from manufacturing issues. While I'll concede this subset of letters doesn't have quite the same public-health import, the idea of releasing them shouldn't be cast aside.
Manufacturers that don't pass FDA muster often have already marketed drugs that are of interest to the public. And accounts of manufacturing issues can help others avoid similar missteps in the future, potentially speeding other medicines to market. There's your public-health benefit. 
I also think the complexity argument may be overblown. The FDA issued 61 CRLs from August 11, 2008, to June 27, 2013. It issued just 14 for novel drugs in 2016, and that was an unusually high number. While the redaction process may be tricky, there really aren't that many letters to deal with. Things would get easier if the FDA were to take a skeptical view of self-interested redaction requests and release the letters largely intact. 
Broad release of letters would be ideal. But at an absolute minimum, the FDA should work toward releasing a summary of the reasoning behind each of its CRLs and any proposed remedies. 
Even a modest shift from the current system -- where companies aggressively massage the truth and valuable information is kept under wraps -- would be a major improvement. 
Before it's here, it's on the Bloomberg Terminal.
LEARN MORE