China's Getting More Bang for Its Credit Buck
Bloomberg News
2017 a 'turning point' for credit efficiency: Morgan Stanley

Economic growth accelerated to 6.9% last year as trade boomed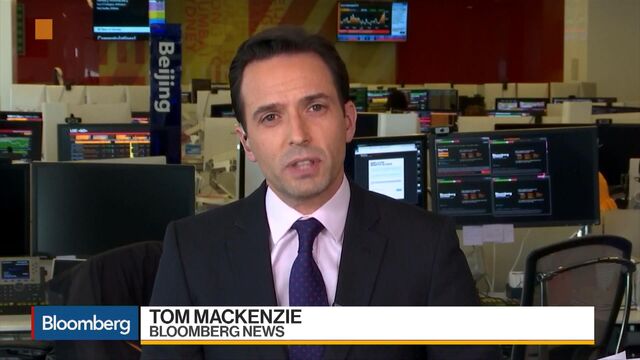 China is squeezing more economic growth out of new credit, signaling that the nation is shedding some of the wasteful investment of the past.
The amount of new credit needed to generate each dollar of economic output fell to about 28 cents in 2017 from slightly more than 30 cents a year earlier, according to estimates by Bloomberg Economics updated following release of full-year 2017 gross domestic product data Thursday.
That backs calls made by JPMorgan Chase & Co. saying that inefficient capital allocation has started to "bottom" while Nomura Holdings Inc. says China's "credit cycle has peaked."
Read the details on the first full-year growth pick up since 2010

China has accumulated a mountain of debt to fuel growth since the global financial crisis, fostering zombie companies and excess industrial capacity, and prompting the International Monetary Fund to warn of the risk of a "sharp adjustment." Wringing more value from credit coincides with President Xi Jinping's intensification of a campaign to crack down on financial risks and polluting companies.
"It is an important turning point," said Robin Xing, chief China economist at Morgan Stanley Asia Ltd. in Hong Kong. "The global recovery since last year and a booming services industry is providing the room to control debt without triggering a major economic correction."
Drivers of better credit efficiency include rising producer prices -- they boost corporate profits, enabling enterprises to pay down debt. At the same time, new investment by many heavily-indebted industrial companies has slowed, says Zhu Haibin, chief China economist at JPMorgan in Hong Kong.
White Elephants
"In sectors from steel to coal mining, we've seen industry profits rebound but very little new investment," says Zhu. "That's probably the most important thing to explain the stabilization of credit allocation efficiency."
Another factor is a rising contribution to growth from consumption, services and the new economy, which are less credit intensive than the "old economy," says Xing. Consumption, which includes some government spending, contributed 58.8 percent of GDP growth last year.
"Growth in fixed-asset investment has declined steadily every year, which could suggest that there's less wasteful spending on white elephant projects," said Andrew Collier, an independent analyst in Hong Kong and former president of Bank of China International USA. "As credit becomes tighter, there will be a scramble for capital, and it is possible that the better businesses that can generate growth and employment may actually benefit."
Might policy makers still resort to old investment habits to prop up slowing growth? Xing thinks it's unlikely this time round, all the more so because a tailwind from exports is giving ample room to follow through on their regulatory clampdown and pollution curbs without spurring a slowdown.
"It's too early to tell if regulators will have the spine to stick with the program," said Andrew Polk, co-founder of Beijing-based research firm Trivium China. "But my sense is that they will try, and if they are successful then when we look back, it will be obvious that 2017 was the critical inflection point."
— With assistance by Kevin Hamlin
Before it's here, it's on the Bloomberg Terminal.
LEARN MORE