markets
Boost to Indian Bonds From Cut in Extra Borrowing Seen Fleeting
By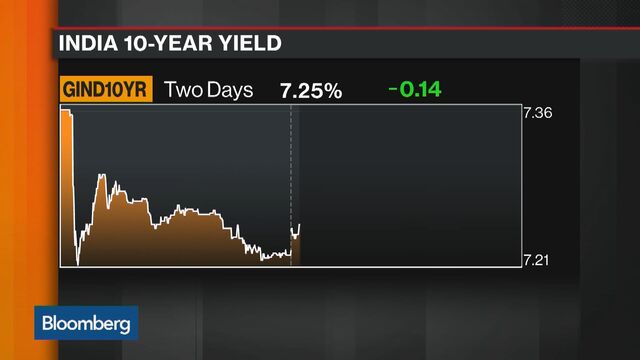 The 60 percent cut in India's planned additional borrowing brought solace to bond traders, who sent the yield on the benchmark 10-year note down by the most in more than a year.
The rally may not endure as the other key factors responsible for the market's worst selloff in 17 years -- accelerating inflation and the supply overhang -- remain, according to ICICI Securities Primary Dealership Ltd. in Mumbai.
"As the dust settles, bond-market players will come to realize that all other negatives are stacked against them," said Naveen Singh, head of fixed-income trading at ICICI Securities. "There's not a single positive metric, domestically and globally, that can ensure a broad-based buying in the bond market."

The market will remain cautious going into the federal budget due on Feb. 1 amid concerns of the government announcing a larger fiscal deficit. If those fears materialize, the yield on the new 10-year note will rise to as high as 7.75 percent by March-April, he said.
The yield on 10-year bonds slid 16 basis points, the most since November 2016, to 7.22 percent. Benchmark sovereign yield rose in each of the past five months, the longest stretch since 2000.
Before it's here, it's on the Bloomberg Terminal.
LEARN MORE