markets
BOJ Watchers Don't See Policy Change Soon, Despite Jumpy Market
By and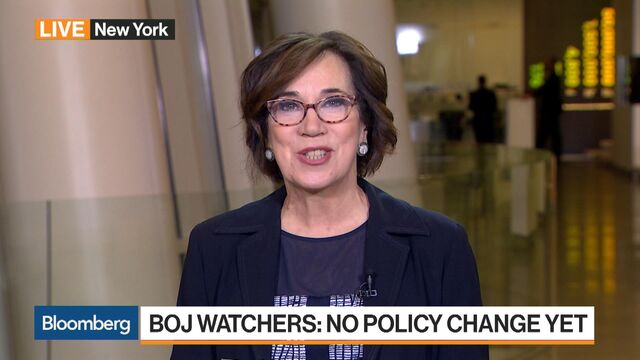 Economists who follow the Bank of Japan aren't buying the idea that the central bank is near the point where it will begin to normalize its ultra-loose monetary policy.
Slightly more than half of those surveyed by Bloomberg this week said they saw no chance of any change to BOJ policy this year. With the vast majority saying Governor Haruhiko Kuroda will be reappointed to another term, continuity is expected, at least through the first half of 2018.
If the BOJ does tighten policy this year, it's most likely to do it in September or October, according to economists. None envisage any adjustment at the next policy gathering Jan. 22-23.
The survey results indicate BOJ watchers were unmoved by the central bank's cut to purchases of long-dated bonds last week, a tweak that was seen by many in the currency and debt markets as signaling a first step toward winding down stimulus.
Daiju Aoki of UBS Group AG expects the bank will dispel those expectations next week, maybe in remarks by Kuroda after the policy decision. However, he thinks the bank will raise the 10-year yield target in October, as core inflation should be stable above 1 percent this year.
Reporting by Bloomberg indicates a minority of BOJ policy makers has flagged the need in internal discussions to eventually start discussing policy normalization, but they agree the current stimulus program must continue unchanged for some time, according to people familiar with talks at the central bank.
Read More: Some at BOJ Are Said to Flag Need for Future Normalization Talks
The economy's longest stretch of growth in years and a slow but steady rise in inflation has spurred the shift inside the BOJ, and the heightened expectations among investors.
Yet the sticking point to changing policy any time soon is that inflation is still less than half way to the BOJ's target of "rising above 2 percent in a stable manner." And added to that, wage rises and inflation expectations are still well below a level that could be called strong.
Any adjustment to the yield-curve framework will come after the inflation rate is stable above 1 percent, according to BNP Paribas SA economist Ryutaro Kono, a onetime candidate for the BOJ's board. He doesn't forecast tightening until next year.
— With assistance by Dru Ann Love
Before it's here, it's on the Bloomberg Terminal.
LEARN MORE