markets
Blockchain ETFs Join Crypto Gyrations in Wild Early Session
By
Premarket trading in new funds takes investors on bumpy ride

Lack of liquidity, price discovery lead to big swings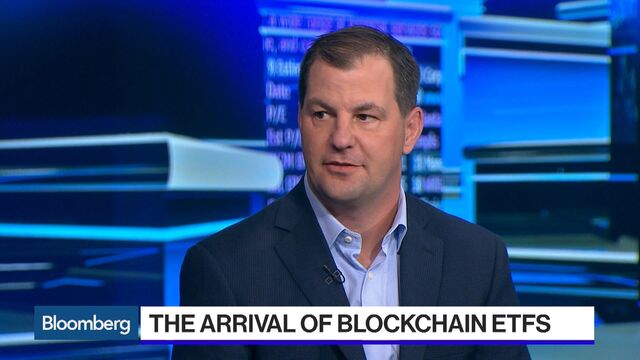 The first two blockchain ETFs look to have a lot in common with their crypto cousins, at least when it comes to wild price swings.
Shares of the two took a bumpy ride in pre-market trading Thursday, with Reality Shares Nasdaq NexGen Economy ETF, symbol BLCN, surging as much as 24 percent before opening little changed. Amplify Transformational Data Sharing ETF, ticker BLOK, jumped nearly 20 percent only to barely budge at the open.

The distortion this time, though, reflects the perils of trading in new issues with thin liquidity rather than the crypto mania, according to Josh Lukeman, head of ETF market making in the Americas at Credit Suisse AG. Trading tends to be more volatile before the market opens because of a lack of liquidity, a situation that's often more pronounced for securities without a long track record, he said. 
"This can create a dislocated market for those who are looking to trade the ETF before the underlying basket is open, often resulting in a poor execution," he said.
The exchange-traded funds debuted into an auspicious market for all things crypto, with Bitcoin slumping below $10,000 for the first time since Dec. 1 only to storm back by more than $1,600 to end higher. Stocks seen as proxies for the space slumped. 
The ETFs rose at least 0.6 percent Wednesday, with flows of a bit more than $2 million each, according to data compiled by Bloomberg. Only 608,000 shares changed hands in BLCN, while BLOK saw volume nearly double that.
Shortly before their scheduled debut, the U.S. Securities and Exchange Commission encouraged the firms behind them to drop "blockchain" from their names. The regulator may have been keen to avoid a repeat of recent incidents where microcaps changed names or reoriented toward crypto and saw their shares surge. Most famously, Long Island Iced Tea Corp. changed its name to Long Blockchain Corp. and saw its stock price almost triple in a day.
The ETFs focus on firms they deem to have business related to blockchain, the technology that underpins cryptocurrencies such as Bitcoin and Ether. Among each fund's top 10 holdings are tech stalwarts IBM Corp., Intel Corp. and Nvidia Corp.
Before it's here, it's on the Bloomberg Terminal.
LEARN MORE