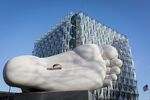 Wait, isn't there supposed to be some restriction on Chinese companies buying property offshore?
If there is, it doesn't seem to include Guangzhou R&F Properties Co. and CC Land Holdings Ltd., two of the mainland firms that have been snapping up real estate cast-offs from billionaire Wang Jianlin's Dalian Wanda Group Co.
Wanda, under pressure to reduce debt after Beijing imposed tighter capital controls, is close to reaching an agreement to sell two Australian luxury property projects, people familiar with the matter said earlier this week, and the buyer is of Chinese origin. The group's hotel unit on Tuesday agreed to sell its interests in the One Nine Elms project on the south bank of London's River Thames to R&F, which itself has a net debt-to-equity ratio of 229 percent.
Wanda paid 89 million pounds ($123 million) for the Nine Elms site in 2013. Considering the weakness in London's property market, and the development's many unoccupied apartments, it probably isn't making a huge profit. R&F, with CC Land, also bought the 10-acre plot of land in London that Wanda walked away from last year.
Meanwhile, bids are out again for the property portion of the Kuala Lumpur-Singapore high-speed rail project. Wanda pulled out of the running last year following increased scrutiny at home; now other Chinese companies are reported to be in the mix, along with some Japanese and European players.
The fate of some of Wanda's more ambitious projects elsewhere is up in the air. EuropaCity, a 3.1 billion euro ($3.8 billion) shopping, theme park and indoor-skiing complex being developed by Wang with French grocery giant Auchan Holding SA, has barely progressed, while a plan for industrial townships in the northern Indian state of Haryana is in limbo.
Whether a Chinese buyer rides in to rescue those remains to be seen. Regardless, it's hard to escape the view that Beijing's property restrictions make the sector off-limits only for some.
Before it's here, it's on the Bloomberg Terminal.
LEARN MORE