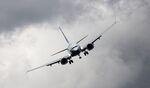 After Tuesday's $6.2 billion insurance-related impairment, General Electric Co. investors probably aren't loving its finance unit much right now. But they shouldn't dismiss it too hastily.
While GE Capital has already sold billions of dollars of legacy financial assets, it still has a very successful aircraft finance business called GE Capital Aviation Services (GECAS). It would surely be reluctant to part with a crown jewel. But the unit could come in very handy if the cash-strapped conglomerate needs a way to raise funds or boost its forlorn share price. Reuters reported in November that a sale of all or part of GECAS was one option under consideration.
With more than 1,300 leased aircraft 1 , GECAS vies with New York-listed AerCap Holdings NV for the title of world's largest plane lessor.
The business has been hugely profitable for GE over the years. Importantly, those profits haven't tended to fall much even during a recession. In 2016, GECAS contributed about $1.4 billion of net income. For reference, GE's expected to generate about $7.3 billion of earnings in 2017.
How come it's doing well? Air travel is booming and airlines are leasing jets so they don't have to put up large amounts of capital, plus they're not exposed to falls in second-hand value. For lessors, there are predictable cash flows and an asset that can be repossessed easily and flown to another country if an airline runs into trouble.
Today, more than 40 percent of commercial aircraft are owned by lessors. Boeing thinks that could rise to half by the end of the decade.
Even so, it's getting tougher to generate good returns. A wall of cheap money, much of it Chinese, has flooded into aircraft leasing. Consolidation among lessors has accelerated, including Avolon Holdings Ltd's $10 billion purchase of CIT Group Inc.'s leasing business. The Chinese-backed 2  company vows to leapfrog Aercap and GECAS as the largest lessor one day.
Some analysts worry about a bubble in plane orders from airlines, so it's helpful that the GECAS order book is smaller than most peers (as a percentage of the fleet). It's focused mostly on single-aisle planes such as the A320 and Boeing 737, which are easier to sell.
That said, more than half of its assets are tied to a mix of regional jets, helicopters, freighters, wide body planes and engines, the majority of which are GE-made, according to JPMorgan Chase & Co. analyst Steve Tusa. That business has about $7 billion of loans too, making it less straightforward for any potential buyer. 
Based on an analysis of listed rivals, Bloomberg Intelligence analysts George Ferguson and Francois Duflot think GECAS could attract a valuation of about 1 to 1.25 times book value if listed separately. AerCap, which has an $8.5 billion market cap, trades on about 9 times earnings.
It might be a wrench, though, for GE to part with all of a unit that reliably throws off cash, especially when the insurance business faces $15 billion in statutory reserve contributions. Credit rating agencies might have something to say.
Selling a minority stake, as Siemens AG is doing with its very lucrative healthcare business, might be a sensible first step. It would monetize part of the leasing asset yet keep exposure to any share price gains and dividends. This pearl in GE's portfolio could yet help it out of a tight spot.
Before it's here, it's on the Bloomberg Terminal.
LEARN MORE