business
Your Evening Briefing
By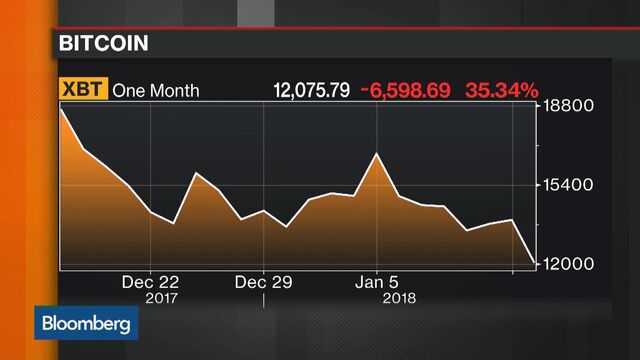 Want to receive this post in your inbox every afternoon? Sign up here
The holiday is over, and Washington is right where it was on Friday. Democrats want child healthcare and disaster relief as part of a spending bill, and Republicans don't. A bipartisan child immigration deal was thrown down a hole, and another stopgap resolution may be needed. Meanwhile, cryptocurrencies are cratering and there's another East Coast storm coming. At least the Dow hit 26,000; otherwise it would all be bad news.
Fear of future regulation sends cryptocurrencies off the ledge. Bitcoin jumped off a cliff as fear of regulatory crackdowns spread. The cryptocurrency gained back some of its losses, but rival tech money also took big dives Tuesday. Speculators are chewing on when market enforcers will bring the hammer down on this decentralized industry.
The SR-71 Blackbird—an otherworldly aircraft that looked nothing like the F-14s, F-15s, and B-52s that flew below it—was an icon of American air superiority. Now, it may be back, and sooner than previously believed. For years, Lockheed Martin has been developing a successor to the fastest aircraft the world has ever seen, and a rather curious talk last week by a company official implied that the new SR-72 might already exist.
Congressional spending negotiations continue with the parties separated by Obamacare, defense funding, extending the Children's Health Insurance Program, and protecting young immigrants brought to the U.S. illegally as children. President Donald Trump helped unravel a deal on the latter last week with the purported help of a now-infamous vulgarity. Still, lawmakers are expected to pass another stopgap spending bill before the Friday deadline.
FBI agents are alarmed at the Justice Department's decision to give House Republicans access to documents about their investigations. A dozen current and former officials revealed their concerns, including that sensitive sources will be disclosed. Demands for materials came from a group of conservative lawmakers who echoed Trump's criticism of the agency and the special counsel's criminal probe of Russian interference in the 2016 election.
Breaking up is hard to do, but General Electric pledged to think about it. The company's new CEO said he's weighing dramatic changes including a breakup after it announced a $6.2 billion charge related to a legacy insurance operation. John Flannery, who took over for Jeffrey Immelt in August, has already been busy cutting costs and selling assets.
You ain't seen nothing yet. The influenza virus that's sickened millions of Americans this season is already the most widespread outbreak since public health authorities began keeping track. Now, with the threat of more strains emerging, it might get even worse. Go wash your hands.
Pickup makers are betting $45 billion on your infidelity. Pickup truck owners stick to their chosen brand more than drivers of any other vehicle. They are human, though, and each of Detroit's Big 3 automakers are trying to tempt them with their own shiny wares. All's fair in love and war, and when there's $45 billion at stake, that includes selling America's signature automobile, too.
Before it's here, it's on the Bloomberg Terminal.
LEARN MORE