Venezuela Says Rogue Chopper Pilot Killed in Raid on 'Terrorists'
By
A 7-month manhunt for Oscar Perez ended Monday in a shootout

Perez allegely hijacked helicopter and attacked Supreme Court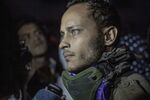 Venezuela's most-wanted man, Oscar Perez, a renegade cop who took up arms against the ruling socialist government, was killed in a raid by security forces, Interior Minister Nestor Reverol confirmed on Tuesday.

Perez, an ex-forensic cop and action film star, allegedly hijacked a police helicopter and attacked the Supreme Court last summer, when Venezuela was convulsed by anti-government protests. He has since appeared in numerous online videos taking credit for armed raids on Venezuelan military bases and urging citizens to join in an open rebellion against President Nicolas Maduro.
Reverol said Perez was among seven "terrorists" killed during a shootout with Venezuelan special forces. The self-proclaimed resistance fighters were holed up in a hillside town on the outskirts of the capital, Caracas. Two police officers were also killed in the raid, Reverol said, insisting that the rebel band had struck first.
"Despite all the attempts to achieve a peaceful and negotiated surrender, this heavily-armed terrorist group started a sly and malicious showdown with security forces," Reverol told reporters.
Monday's siege captivated the country's attention as images of the firefight were broadly shared on social media. In one of nearly a dozen video clips, a visibly bloodied Perez said security forces had ignored the rebel band's pleas to hand themselves in.
"They don't want us to surrender, they want us dead!" Perez said over the sound of gunfire.
Before it's here, it's on the Bloomberg Terminal.
LEARN MORE