Stockholm Has Too Many Hotel Rooms and It's Hurting Share Prices
By and
Scandic warns of lower earnings from Swedish operations

Hotel stocks slump as oversupply echoes housing market glut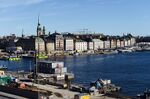 It's not just Stockholm's housing market that is feeling the weight of a surge in supply. Profitability among hotels is also under pressure as demand fails to fill a raft of new rooms in the Swedish capital.
That prompted Scandic Hotels AB, the Nordic region's largest hotel chain, to warn on Tuesday that adjusted fourth-quarter earnings before interest, taxes, depreciation and amortization would drop from a year earlier, mainly due to a decline in earnings at its Swedish operations. Scandic, as well as peers Pandox AB and Rezidor AB, slumped in Stockholm trading.

"The decline in earnings is primarily attributable to operations in Stockholm, where the market was weak in the quarter, and costs were not fully adjusted in line with the weaker like-for-like sales development," Scandic said.
While the number of hotel stays in Greater Stockholm rose in October and November from a year earlier, the addition of new hotels meant that the occupancy rate fell to 68.2 percent in November 2017 from 68.5 percent a year earlier. In October, it dropped to 68.5 percent from 70.7 percent a year earlier.
"Swedish performance has been particularly weak in Stockholm due to high supply growth and a slowdown in demand," Morgan Stanley said in a note after the profit warning from Scandic, a stock it rates underweight.
The number of available beds in the Greater Stockholm area jumped 5.9 percent from a year earlier to 70,571 in November, and is up some 16 percent in the past five years, according to data from Statistics Sweden. New hotels that recently opened include Nordic Choice Hotels' At Six and its sister hotel Hobo as well as Scandic's Downtown Camper.
Pandox, whose hotel-property portfolio consists of 143 hotels in 15 countries, declined to comment on the Stockholm market as it's in a so-called silent period before fourth-quarter results on Feb. 15.
Instead, it referred to its third-quarter report, in which it said that while the Nordic countries continued to benefit from a good economic trend in that period, the inflow of new hotel capacity in Stockholm "had a dampening effect" on revenue per available room, which decreased by 3 percent. Although underlying demand remained good in the third quarter, "it was unable to compensate in full for the increase in capacity," Pandox said then.
Rezidor said in its third-quarter report that like-for-like RevPAR declined 4.2 percent in Sweden in that period, "negatively impacted by renovations and softening of demand" in Stockholm and Malmo. The company plans to report earnings for the fourth quarter on Feb. 21.
Demand for hotel rooms in Sweden should increase in 2018, albeit at a slower rate than in 2017, and following several strong years for the market that pushed occupancies to record levels, said Bjorn Arnek, industry economist at Visita, which represents about 7,000 Swedish hotels, restaurants and other hospitality businesses.
Given the addition of about 1,700 rooms in November alone, "it makes sense for the occupancy rate to fall, which we've seen happening in Stockholm now," Arnek said. "I think revPAR in Stockholm will sink year-on-year for 2017."
Scandic tumbled as much as 20 percent by 1:59 p.m. in Stockholm Tuesday. Rezidor dropped as much as 4.4 percent and Pandox 9.8 percent.
The abundance of hotel rooms bears similarities with Sweden's residential market, where an increase of new homes has pushed supply beyond demand, prompting prices to fall the most since 2008.
Before it's here, it's on the Bloomberg Terminal.
LEARN MORE