politics
Romanian President Hosts Talks on PM After Government Falls
By
Social Democrats proposed EU lawmaker Dancila as new premier

Turmoil has trimmed gains in 2018's top east European currency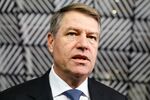 Romanian President Klaus Iohannis is meeting political parties as the Black Sea nation looks to appoint its third prime minister in a year following this week's shock unraveling of the government.
The Social Democrats, who won a landslide election victory in late 2016, on Tuesday proposed European Parliament lawmaker Viorica Dancila to replace Mihai Tudose as premier. The ruling party is trying to form a lasting government and end infighting that's jeopardizing one of Europe's fastest-growing economies. Iohannis, who slammed the Social Democrats' stewardship on Tuesday, must back Dancila or pick a different candidate. He's due to end talks with the parties at 4 p.m. in Bucharest.
"The easy way out for everyone is, of course, if the president plays it safe and appoints the ruling coalition's candidate," Horia Braun-Erdei, an economist at Erste Group Bank AG, said by email. "He could decide to play tough and refuse to designate their candidate. But given the weakness of the current opposition parties, this may not be his preferred solution."
Dancila is an ally of Social Democrat leader Liviu Dragnea, who despite being prevented from taking the premier's job himself because of a criminal conviction remains the ex-communist country's dominant politician. His party toppled its own government last June amid a spat with then-Premier Sorin Grindeanu. This time round he objected to Tudose's plans to reshuffle the cabinet and fire the interior minister over a police scandal.
Romania is no stranger to political upheaval: it's had 14 prime ministers since 1990, with only two completing their full term. The new premier will take over an economy that surged an annual 8.8 percent in the third quarter, though the central bank and the European Commission have warned about the sustainability of growth and the budgetary dangers of the Social Democrats' tax cuts and public-sector wage hikes.
The latest political tensions have taken their toll on Romania's currency. The leu, which was eastern Europe's star performer until Tudose's surprise departure, has trimmed this year's gain to 0.3 percent.
Tudose unexpectedly resigned late Monday just six months into his term after losing the support of his party. Dancila, 54, who's from the same county as Dragnea and has a master's degree in political science, would become Romania's first woman prime minister.
"Dancila is a very respected member of the party and has a good relationship with officials in Brussels," Dragnea said Tuesday in televised comments. "She'll be able to use this in Romania's favor as we prepare to take over the presidency" of the European Union in 2019.
Iohannis can reject one candidate for premier, a right he used in 2016 with Dragnea's first pick after the election. He's named Defense Minister Mihai Fifor as interim prime minister.
"I'm deeply dissatisfied and concerned about the situation we're in as we have two failed governments in the first year since elections," Iohannis said. "I want a fast procedure to set up a new cabinet because I want to prevent potential negative effects on the economy."
(
Updates with schedule of talks starting in first paragraph, leu in sixth.
)
Before it's here, it's on the Bloomberg Terminal.
LEARN MORE