business
Oil Spill at Sea From Burned Ship off China Spreads 'Noticeably'
Bloomberg News
Oil slick now covers 52 square miles, up from 3.9 square miles

A fire, which was burning off fuel, has now dissipated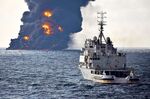 The oil slick caused by the stricken Iranian tanker in the East China Sea has spread "noticeably," raising the prospect for wider environmental damage from what could be the worst spill in decades.
The fuel from the sunken tanker Sanchi, which was carrying 1 million barrels of condensate, expanded to cover as much as 52 square miles at 12 p.m. local time on Monday, up from about 3.9 square miles the previous day, according to Chinese authorities. A fire, which had been burning off some of the highly flammable type of light oil, has dissipated, the authorities said.
The blaze, which started Jan. 6 after the tanker collided with another ship, had been seen as helping to limit the fallout. The cargo is four times larger than the heavier crude on the Exxon Valdez spilled off Alaska in 1989, affecting about 1,300 miles of shoreline and destroying thousands of marine fauna. If all the condensate leaked into the sea instead of burning off, the spill would be one of the biggest from a ship over the past five decades.
"We simply do not know if all of the condensate was released, or if some remains in intact cargo holds on the ship at the seabed," said Richard Steiner, an oil spill specialist based in Alaska. "We need to know this."
Environmental Risk
The East China Sea is a large fishing area, and species such as mackerel could be affected by a spill, Greenpeace said last week. If there were a large-scale leak, then there would be an impact on creatures like the small yellow croaker and hairtail, according to the environmental group. The area is also on the migratory pathway of many marine mammals such as humpback whales, Greenpeace said.
"It is virtually certain that much of the condensate went into the sea in solution, and that toxic underwater hydrocarbon plume will injure marine life exposed to it," Steiner said. "Even the burned fraction will leave a toxic residue on the water."
The Chinese authorities are still assessing the damage, the country's State Oceanic Administration said on Monday. Because the oil slick is drifting southeast away from the coastal area where it sank in the East China sea, the spill isn't having a significant impact on the marine ecological environment around the shore, according to a report by China National Radio Monday.
— With assistance by Sarah Chen
(
Updates to add comment in 4th paragraph, expands Greenpeace comment in 5th.
)
Before it's here, it's on the Bloomberg Terminal.
LEARN MORE