politics
Merkel Coalition Opposes AfD Chairing Budget Committee, Sources Say
By
Key German parliamentary post is claimed by far-right party

AfD says established parties defying tradition risks uproar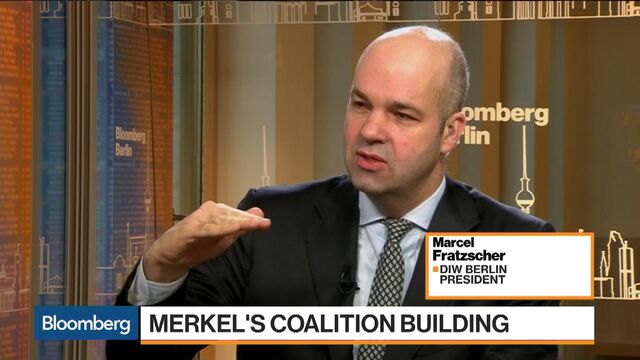 Lawmakers from German Chancellor Angela Merkel's caretaker government are trying to stop the far-right Alternative for Germany party from chairing a key committee in the Bundestag, according to two people familiar with the plans.
Merkel's Christian Democrat-led bloc and the Social Democratic Party are considering awarding the budget committee chairmanship to the SPD with a system based on caucus size, rather than to the biggest opposition party, the people said. Such a move would break with parliamentary tradition and deny the AfD the post.
Bernd Baumann, the AfD's caucus whip, told reporters in Berlin on Tuesday that the party is seeking to chair the budget committee "as is customary" for the largest opposition party. Any discrimination against the AfD when lawmakers debate committee chairmanships on Wednesday would "cause a fuss in the republic," he said.
With lawmakers holding the power of the purse, the budget committee played a central role in bailout programs for euro-area member countries such as Greece and in establishing the European Stability Mechanism crisis fund. In last year's German election, the euro-skeptical AfD became the first far-right party to win parliamentary seats since immediately after World War II after campaigning against Merkel's immigration policies.
It would be the second attempt by established parties to deny a platform to the AfD, the third-strongest party in parliament. Lawmakers last year changed parliamentary rule to keep the party's oldest lawmaker from presiding over the new Bundestag's opening session.
Michael Grosse-Broemer, the parliamentary whip for Merkel's bloc, told reporters "there will be no special rules" aimed against the AfD.
Germany's acting government consists of Merkel's bloc and the Social Democrats, a coalition that Merkel is asking the SPD to renew for another four years. In the interim, the two sides together still have a majority of the votes in the Bundestag.
Before it's here, it's on the Bloomberg Terminal.
LEARN MORE